Looking for a some change at Your dinner? Alaskan roll from Japanese cuisine with easy to find ingredients will do you some favor. If you are a fan of Japanese-style Sushi and Sashimi, this Alaskan roll with easy-to-find ingredients would be one of the smartest and most delicious options for you. In this article, let's dive deep into details regarding what Alaskan roll is, how to prepare and serve, how to store, health benefits and other similar rolls as well. In addition, in the end, you'll be getting answers to the most frequently asked questions regarding Alaskan rolls.
First, let's see what Alaskan roll is?
What is Alaskan roll?
Alaskan roll or Alaska roll is a Japanese origin "inside-out" sushi roll. What does the Alaskan roll have? Alaska roll is typically made out of raw or canned or smoked salmon plus imitated crab as basic two proteins. In addition, it includes sushi rice, avocado, cucumber, and spicy mayo sauce if you really love to have an extra spicy kick. You can go on with some sesame seeds as well. Spicy mayo and sesame seeds are optional.
Secondly, let's see how to make an Alaskan roll?
How to make an Alaskan roll?
The regular maki roll version of the Alaskan roll is just stuffed with smoked salmon, crab and avocado. The combination of rice, salmon, crab, and avocado is indeed a winning and delicious mixture glazing your appetizer experience to the next level.
It's just easy to find out the ingredients and start. You can have prepared these smart and delicious rolls as a super option for your main dish at dinner/lunch, or in a side dish as an appetizer. It just takes only about half an hour. Alaskan rolls tend to have distinctive variations and in this article, let's talk about the most common type that includes crabs and is free of frying. Let's get started with making your favorite sushi roll dish. Here find your most awaited easy to prepare recipe at home to serve your lovelies (1)(2).
Why does this recipe work?
In this super simple recipe, you would find how to make sushi rice, spicy mayo sauce and the spicy crab mix also. Are you looking forward to more culinary tips and tricks as well? If so, here is the recipe for you to get more tips and tricks for a better result. Moreover, have your searches answered for Alaskan roll calories as well.
You would love to know more about the ingredients. Isn't it so? Right. Let's go into detail about a few major ingredients and as well as a few optional ingredients playing a huge role in your Alaskan roll (2).
Alaskan roll – Processed ingredients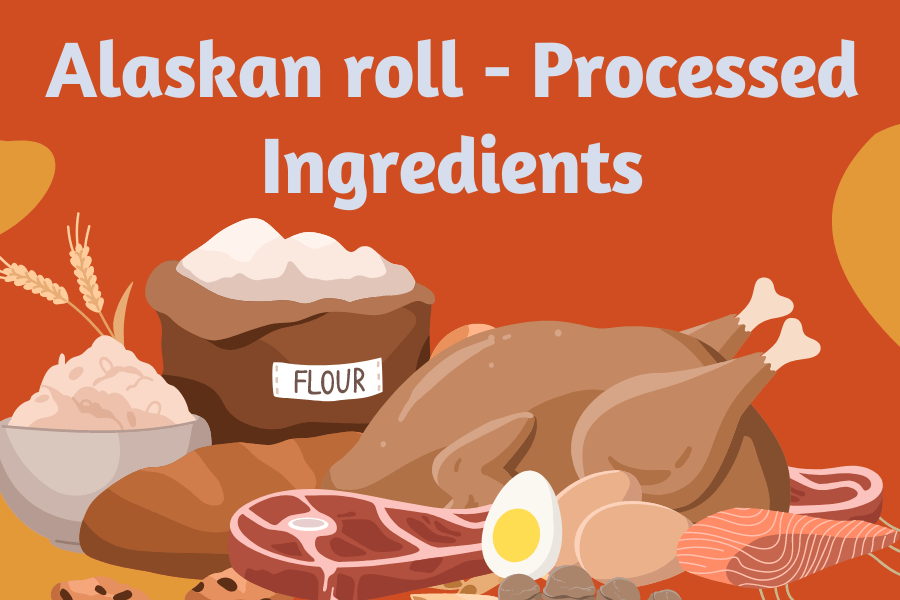 01. Imitation crab
You can corporate real crab in your Alaskan rolls indeed. However, the problem is that real crab is much expensive and you may have to devote more time to prepare. Instead imitation crab would be a great option. You could easily find them at the grocery store. Imitation crab is just seafood analogs where you perceive that they are just really crabs. They are made out of starch and finely diced white fish and shaped in a smarter way as real crabs. For your wonder, you'll find that the vast majority of Japanese sushi rolls are fillers of imitated seafood.
What fish is in an Alaskan roll? Does Alaskan roll have raw fish? it's just salmon and yes, you may have raw salmon included on some occasions.
02. Smoked, canned, or raw salmon
A huge care should be paid if you are frequently using raw salmon. Especially, in terms of safety without being messed up with food-borne illnesses. Accordingly, smoked or canned salmon would be rather safe than raw salmon to you. In addition, the best healthiest option differing from smoked or deep-fried salmon is having your salmon air-fried with no oil or a little bit of vegetable oil.
03. Spicy mayo sauce
This spicy topping would add your Alaskan roll an extra spicy kick for a hot finish. This is somewhat incredible you must try for indeed with an Alaskan roll. The sauce is just a simple mix of spicy sriracha and smooth mayonnaise. If you are dying for spicier, you can have this sauce added with more sriracha. If you are really looking for a smoothy touch with a mellowy tone you can just add more mayonnaise for the mix.
04. Nori sheets or seaweed paper
You can have Nori sheets easily at Walmart, Kroger, or HEB grocery stores or can order over Amazon. These are very healthy and try having them incorporated into your diets irrespective of their delicate flavors.
Alaskan roll – Natural ingredients
01. Sushi rice: This type of rice is somewhat different from normal traditional rice especially because sushi rice is small and white grains carry more starch and more protein than long-grain traditional white rice. Due to the higher starch and protein content, it makes it more sticky. Accordingly, keep in mind not to use traditional rice varieties for your Alaskan rolls. Some of the good brands you can look for sushi rice in the supermarket are Lundberg Organic California Sushi rice, Nishiki Premium Grade rice and Botan Calrose rice (1).
02. Avocado: You can find avocado heavenly in sushi rolls. Not just only in rainbow rolls. Indeed it should be noted that you have to choose the correct maturity. Do you know how to do that? It's just simple. Don't go for under-ripens and as well as over-ripens. Just look for the skin color, whether it is dark, and give a slight push across the peel. If you have no go, that is under-ripen and if you have more go that is over-ripen. Stay in the middle.
03. Cucumber: Keep in your mind to have especially the Japanese cucumber for your sushi rolls. They are thin, straight and have a lesser amount of water than a traditional cucumber. That is very much important in having your sushi rolls away from getting wet.
At the same time, let's go into detail about a few optional ingredients also (1).
Alaskan roll – Optional ingredients
01. Pickled ginger: If you are a heavenly ginger lover, you can indeed incorporate them as pink pickled ginger or white pickled ginger. You would find them easily at Amazon or in most of the Asian sections of the supermarkets.
02. Wasabi: You can have a Wasabi also if you prefer. The best way to have wasabi done to perfection is by having water added to Wasabi powder and BOOM. It's just easy peasy lemon squeezy. Accordingly, you can have just the same as you find mostly in Japanese-style restaurants.
In addition, here you could find another recipe for Alaskan sushi rolls for crunchy bites.
Alaskan Sushi rolls for crunchy bites
This particular type of Alaskan sushi roll is also having inside-out wrapped fresh salmon and avocado. However, this is a little bit different from the style that we have already discussed in the aforementioned recipe. The roll is rolled in panko; a super crispy Japanese-style breadcrumb (3).
The super difference of this type from normal sushi rolls is that these are free from crabs and smeared in the breadcrumb and deep-fried for crunchy bites. You can have these delicious crunchy rolls together with a sprinkle of Shichimi 7 spice pepper or sweet EEl sauce. Here the recipe for this Alaskan sushi roll is just for you crunchy lovers.
After having your Alaskan roll done, let's see how to serve it in a lucrative way.
Alaskan roll serving
If you are looking forward to add spicy mayo sauce apart from the way explained in the recipe, here's another way how you can do it.
Once you have done with the rolls, it is high time to add spicy mayo sauce. You can just follow two arts on adding spicy mayo. The most eye-catching way is that you can just fill the spicy mayo into a small bag and then have a small cut at the corner. Gently squeeze the bag in a way zigzag up and down the roll to be drawn by spicy mayo. After you have done you can go fun with a photograph taken and share it to go viral on Instagram. Right..!!. The other method is that simple, you can just have a fork or a spoon to spread it evenly on the Alaskan roll.
Optional sauces and toppings to serve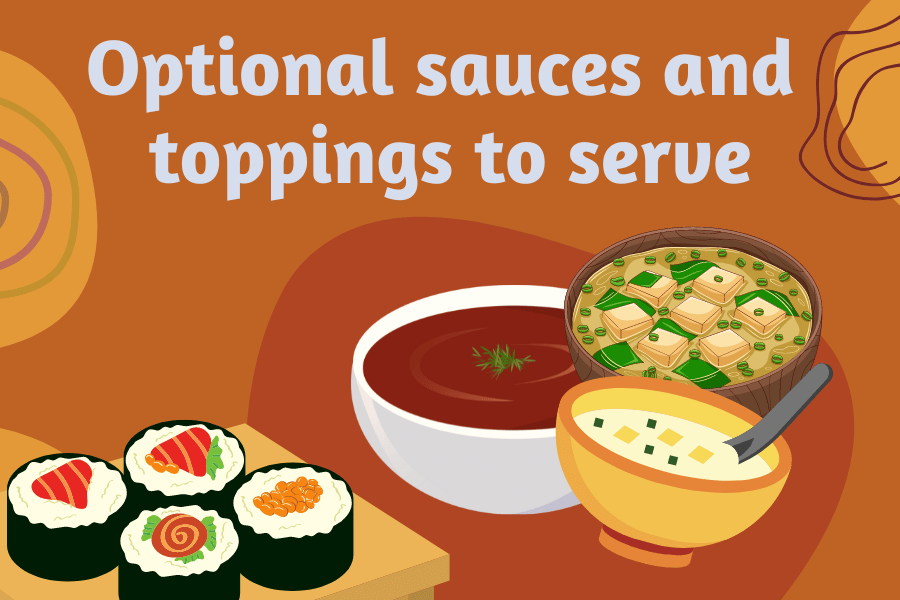 In addition to spicy mayo sauce, the other sauces and toppings that you can try are Bang Bang sauce, Masago sauce, or white or black sesame seeds (1). You can try soy sauce even for a traditional tone. Moreover, you can have
Tobiko sauce,
Yum yum sauce,
Ina Garten Tarter sauce,
Vinaigrette dressing,
homemade Alfredo sauce and
Mediterranean sauce together with garlic (4).
If you are really favoring another sauce differing from spicy mayo, especially for a sweet touch together with rice vinegar, soy sauce and white wine., find the recipe for Eel sauce here.
How to eat Alaskan roll correctly?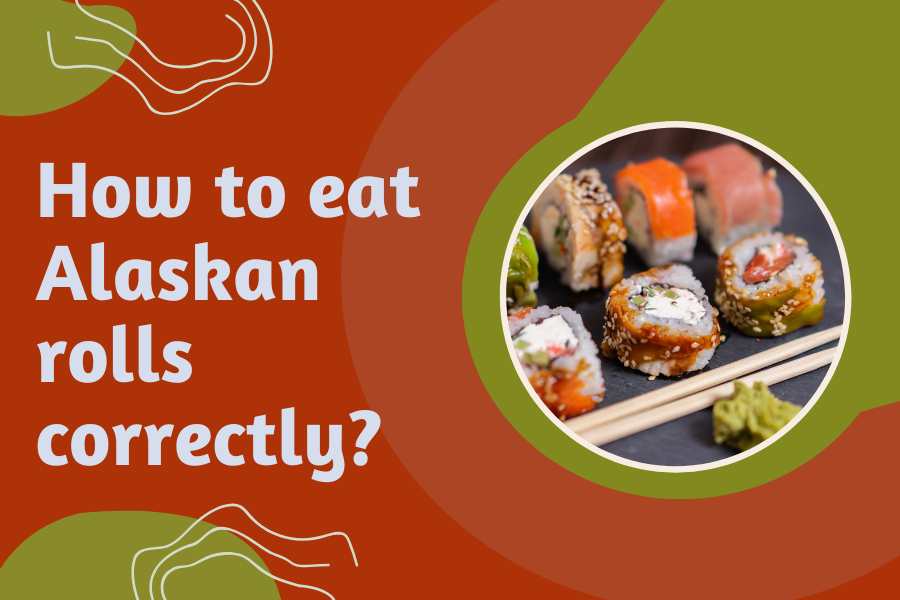 Once you are done with your Alaskan sushi rolls, make sure to eat them correctly. If you are using a mixture of soy sauce and wasabi or any other kind of sauce, don't go heavily dipping your rolls in them. This will simply drown out the delicate flavors from the salmon, crab and finally, you'll be having the massive flavors of soy and wasabi only.
If you have more Alaskan rolls prepared, let's see how you can store the excess or leftovers properly for later consumption (4). Along with that, you may ponder on how long it could be stored? what are the best tips on storage? and will they have the same freshness and sensory profile as the previous? Let's have a look into it.
How to store Alaskan rolls properly?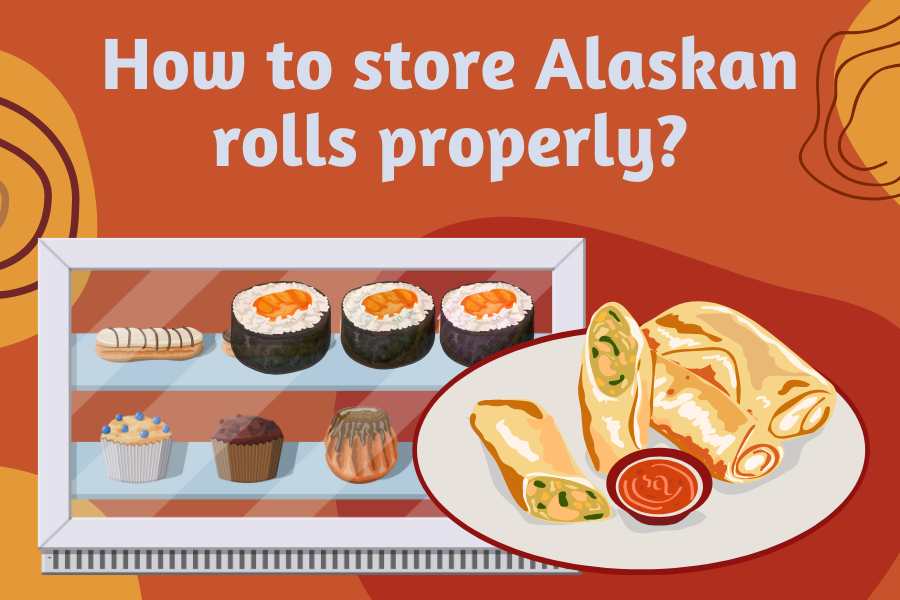 01. In the fridge: If you properly store your leftover Alaskan rolls in the fridge, they can last for about a day. Wrap each Alaskan roll with a clear film or a proper plastic wrap tightly. Take care not to enter air in. Then place the wrapped rolls in a dry container closed by an airtight lid. Then keep it in the refrigerator soon.
02. In the freezer: If you properly store your leftover Alaksn rolls in the freezer, they can last for about 2-3 days. This is the best way you can preserve them. Its just the same way as aforementioned. Wrap the excess or the leftovers airtightly with a plastic wrap and place them in a dry container closed with an airtight lid. Place the container immediately in the freezer. Before wrapping the rolls take care to remove any excess water.
As you are much health concerned, you may willing to know about the nutritional information as well.
Alaskan roll Nutritional profile
One Alaskan sushi roll will include,
Calories – 1399kcal | Carbohydrates – 173g | Protein – 55g | Fat – 55g | Saturated fats – 8g | Cholesterol – 98mg | Sodium – 2532mg | Potassium – 2494mg | Fiber – 22g | Sugar – 2g | Vitamin A – 627IU | Vitamin C – 31 mg | Calcium – 125 mg | Iron – 5mg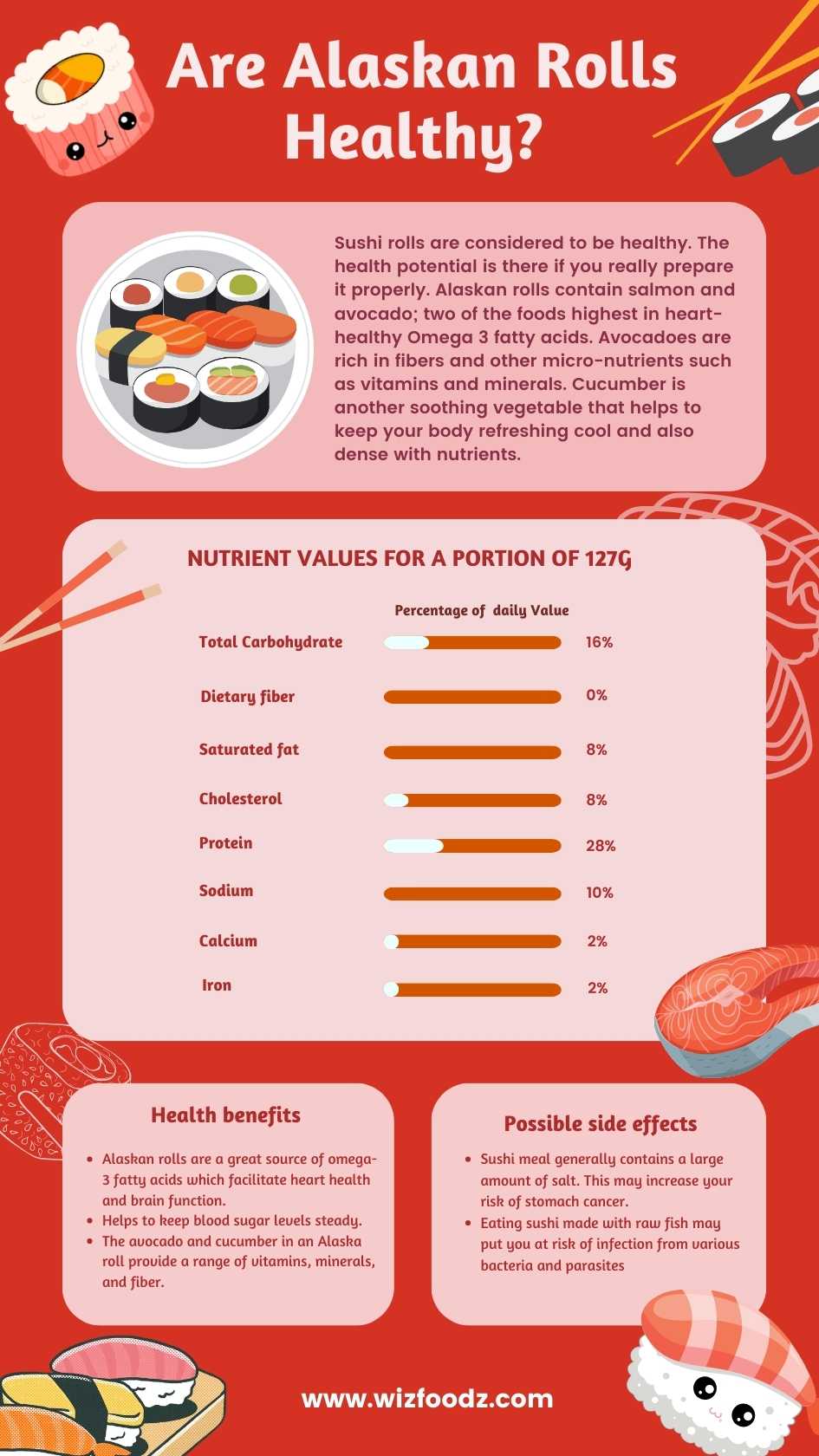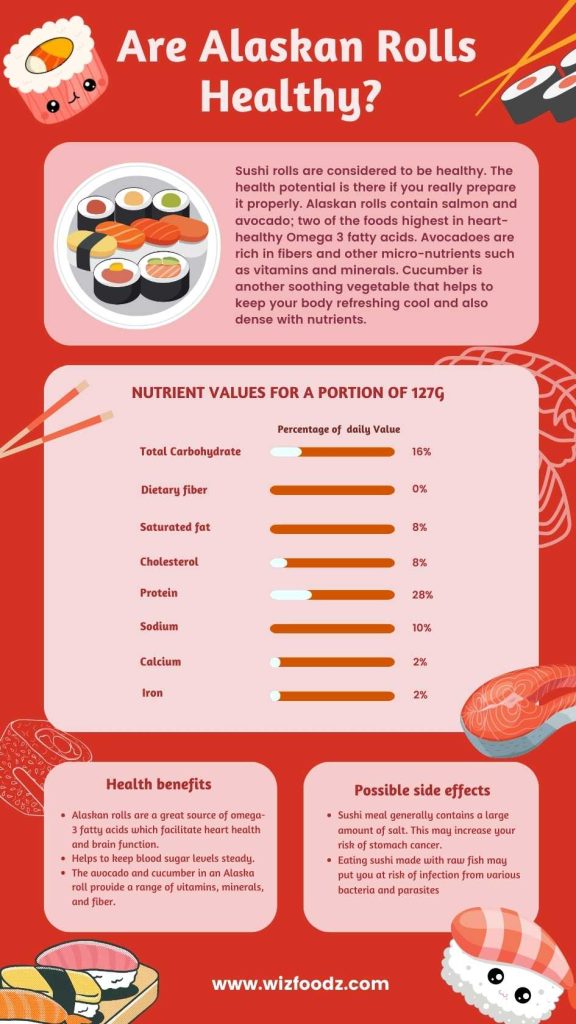 Are Alaskan rolls healthy?
Normally, sushi rolls are considered to be healthy (5). The health potential is there if you really prepare it properly. Alaskan rolls contain salmon and avocado; two of the foods highest in heart-healthy Omega 3 fatty acids. Avocadoes are rich in fibers and other micro-nutrients such as vitamins and minerals. They are indeed good for your guts, nerves, and kidneys. Cucumber is another soothing vegetable that helps to keep your body refreshing cool and also dense with nutrients.
Seaweed-based nori sheets are also an immense source of health packed with vitamins and minerals. About 44% of the dry weight of it is protein and also includes compounds that help to combat viruses, inflammation, and even cancer (5). However, there is a bad side to everything. Different kinds of sauces and toppings incorporated in Alaskan rolls will add more calories and fats besides the aforementioned health benefits of ingredients (6).
Tips to ponder
You should be extremely careful when having Alaskan roll salmon in raw, especially due to the potential of triggering food-borne illnesses. Accordingly, try having sustainably fished salmon or Frozen-at-sea (FAS) for the freshest option you could ever have for salmon. If you are looking forward to buy non-frozen salmon look for types with a firm and dense texture free of overpowering fishy smells (7).
Western style sushi rolls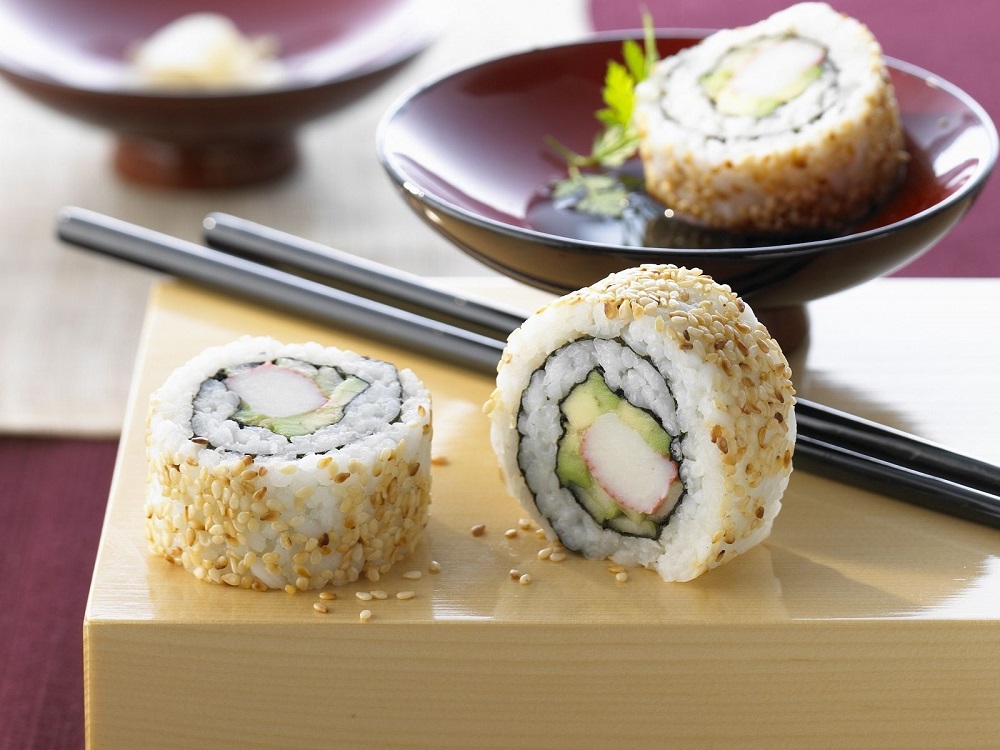 Philadelphia rolls
If you have a favor for a sushi roll with cream cheese, you would love these Philadelphia rolls.
Usually they are made with nori seaweed, cream cheese, cucumber, smoked salmon and rice as the main ingredients. However, you can also replace smoked salmon with imitation crab. In addition, it is possible to include other ingredients, such as other types of fish, scallions, and sesame seed. It's name and design is modified to target the American market.
Alaskan rolls vs. Philadelphia rolls
The main difference you could find would be having cream cheese in Philadelphia and no cream cheese in Alaskan rolls. In Philadelphia rolls, for a serving of four, you would have to incorporate 4 oz. or 115g of cream cheese shredded as matchsticks.
The primary ingredients used in these rolls are typically rice, cream cheese, cucumber, and smoked salmon, but if you prefer, you can substitute the smoked salmon with imitation crab. Additionally, other ingredients like different types of fish, scallions, and sesame seeds can be added for extra flavor and texture. It's worth noting that the name and presentation of the roll have been altered to appeal to the American market.
California rolls
In addition, you may have heard about some of the sushi-style rolls such as California rolls. These are also inside-out rolls just the same as Alaskan rolls, however not a product of Japanese cuisine. They were first originated as convenience items for American-style dinners.
This is a sushi roll which contain vinegared rice on the outside of the roll, containing crab (or imitation crab), avacado, and cucumber in the inside. You can top the rice with sesame seeds, and eggs of certain fish species like flying fish.
Boston rolls
Boston roll is another example of an Americanized version of inside-out Japanese sushi roll.
This is similar to California roll in terms of the way it is made. In California rolls they contains imitation crab sticks, avocado and cucumber. The boston rolls contain poached shrimp instead of imitation crab meat. Both boston rolls and California and rolls are inside-out sushi rolls. And the especiality in boston rolls is that, chefs use a bright orange masago (eggs of the capelin fish in edible form) it in.
smoked salmon rolls sushi
as another sushi type popularized by the Western culture majorly incorporating a salmon avocado filling.
Furthermore, Western-style sushi rolls include dragon roll, AAC roll, and Rainbow roll. You may have already seen these dragon rolls resembling an appearance of a dragon or a caterpillar especially because the stuffed foods are wrapped in green layers of avocado and cucumber.
This is a also made in a way similar to other sushi rolls with sushi rice on the outside. But the inside contents are complete vegan which contain avocado, asparagus and cucumber as the three letters imply.
Rainbow rolls
They are just the same as the California rolls with the inclusion of cucumber, avocado and crab sticks, and also tuna on some occasions. Likewise, the westernized sushi rolls are diversified and you would love to have most of them as cute and colorful items added to your lunch or dinner.
Finally, let's have answers to a few of the frequently asked questions regarding Alaskan rolls.
Frequently Asked Questions
01. Does Alaskan roll have cream cheese?
Exactly not, if you are looking for a traditional one. They don't have cream cheese. However, there are a few other versions with cream cheese also such as Philadelphia rolls.
02. Is Alaskan roll raw?
It completely depends upon the way you use ingredients. The ingredients either would be raw or cooked or further processed. If you use raw salmon, avocado, and cucumber, it is completely raw. However, if you use canned, smoked salmon, instead of raw ones, then your Alaskan rolls are not completely raw. Apart from that, if you smear your rolls over breadcrumbs and deep-fried or air-fried, then they are utterly cooked.
Are alaska rolls cooked?
The simple answer to this is yes. Alaska rolls are full cooked sushi rolls usually made of raw salmon (you can substitute them for canned or smoked salmon as well) and imitation crab as seafood. Cucumber and avocado are used as the veggies. To add an additional taste you can top it with spicy mayo sauce and eat it by dipping in soy sauce.
Alaskan king crab rolls
Alaskan king crabs are popular due to their sweet taste and delicate meat. If you love to try a seafood sushi roll other than Boston rolls, Alaskan crab rolls would be a great option for you.
To make an Alaska king crab roll, sushi rice is spread over a sheet of nori. Then you place the cooked and seasoned king crab meat on top of the rice, along with other ingredients like avocado, carrot, cucumber, spring onions etc. You can add more flavor to the king crab legs by stirring them with miso sauce. Finally you can roll it using a bamboo mat and cut into bite-sized pieces.
Alaska cinnamon rolls
Alaska cinnamon rolls are a kind of variation of traditional cinnamon rolls which are popular in the state of Alaska. They made it with a delicious, buttery dough, filling and a glaze that are mainly incorporated with warm spices like cinnamon, nutmeg and vanilla extract etc. with some other ingredients.
You may also like,