Are you planning to inspire your Halloween days with delicious fun? Here's the right place for you!! We can make your fantasy a really easy one. In this article we sorted out top 8 delicious Halloween recipe ideas from hundreds of different recipes especially for you, so that you can enjoy with your loved ones.
How about cute yet creepy breakfast, creepy but yummy Halloween dinner or family friendly drinks? Well, don't worry we got that all covered for you. Don't get panic they are not so tricky to make and you can easily make them at your home in advance and we'll give you the best tips to keep them fresh and delicious until the right moment for you to serve. All you have to do is a little bit of planning and combining your creativity.Now let's dive into our devilishly good Halloween recipe ideas which will definitely scare up everyone's taste buds.
1. Halloween Mini monster burgers recipe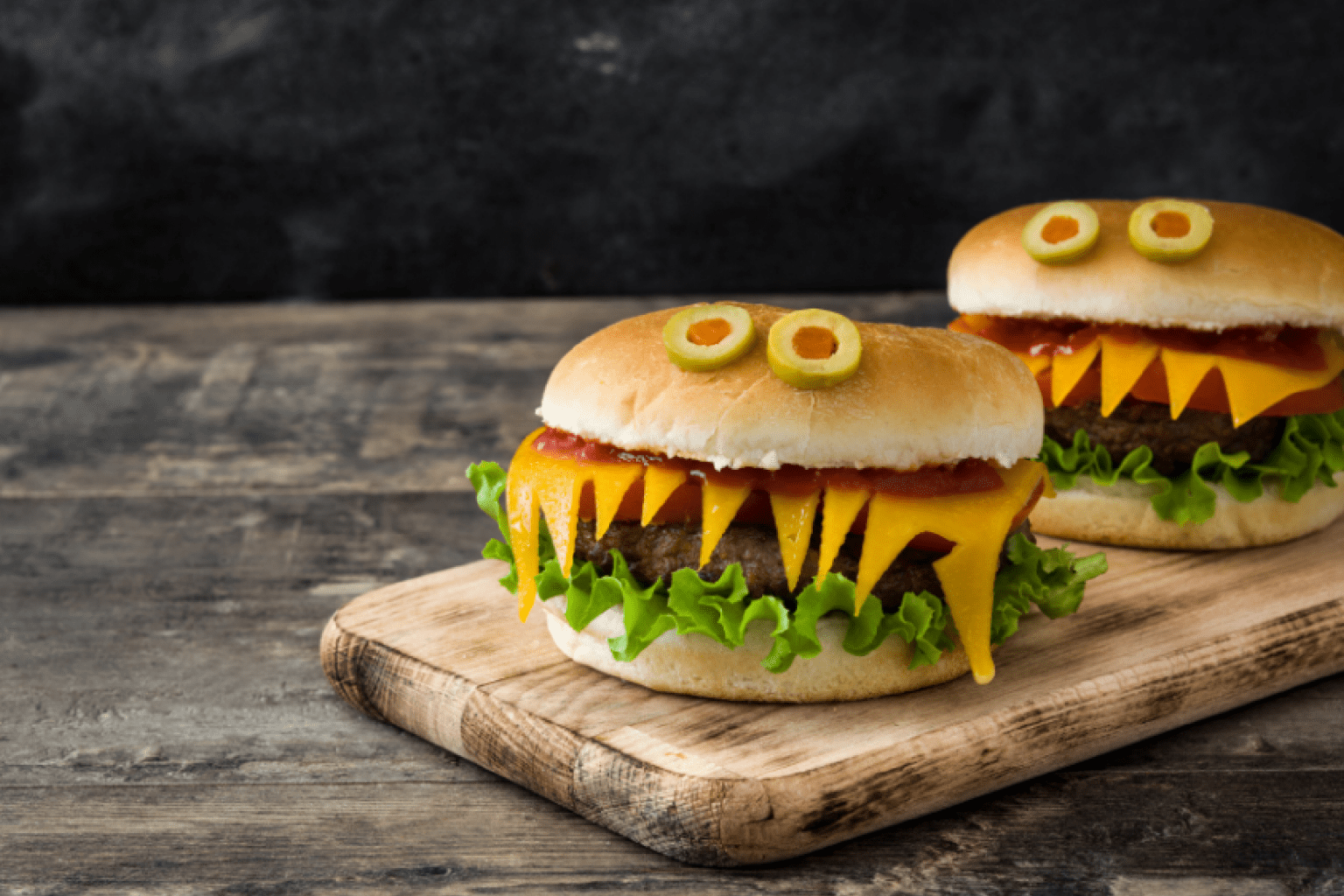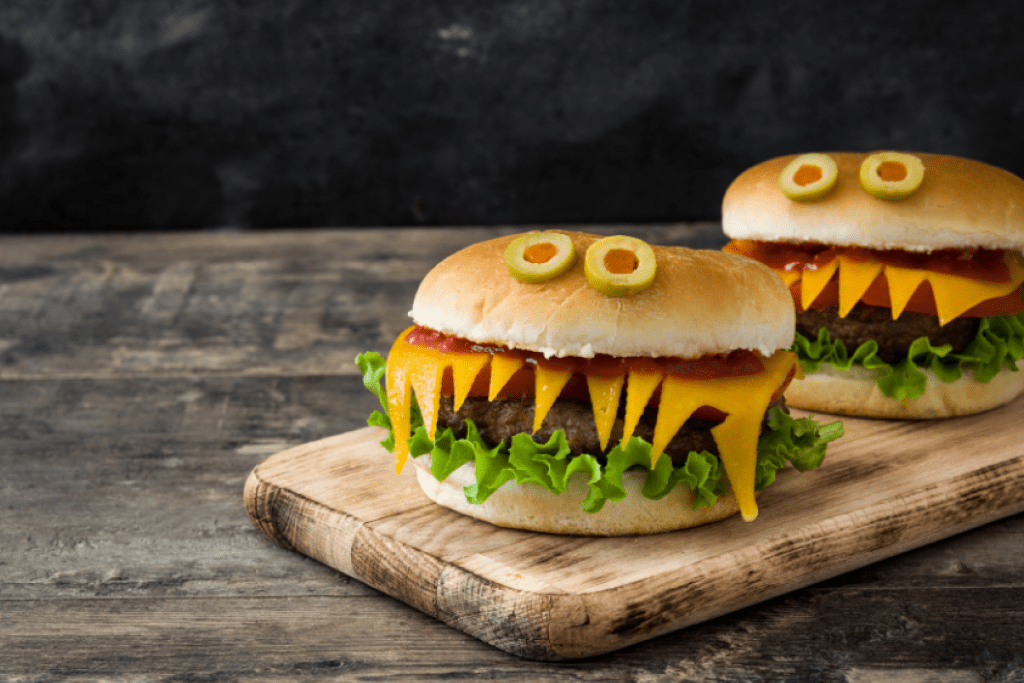 Mini monster burgers
Make your favorite burgers live with mini monster burgers. This will be a perfect match for you to enjoy during your Halloween times!
Ingredients
4

slices of low-fat cheddar

4

pieces of beef burgers

take them from 8 pack of frozen bugers

2

tbsp

of light mayonnaise

4

burger buns halved and seeded

4

slices of gherkins slided along the lengthways

halved lettuce leaves

8

olives (pimientos stuffed)

2

tbsp

of ketchup
Instructions
After preheating the grill cook the burger according to the instructions in the pack.

Using a knife, cut one end of the the cheddar cheese slice into a zig-zag pattern. Repeat this with all the cheese slices

Grill the burger buns keeping the cut side up for around 1 min until the golden color arrives.

Spread your mayonnaise evenly on both halves of the burger bun. Repeat the process for 4 buns.

On the bottom half of the burger arrange the ingredients as follows.

Keep a piece of lettuce on the bottom half of the burger bun, then keep the burger patty on the top of it.

After that place the gherkin slice in a way that it hangs from the top of the patty resembling a 'tongue'.

You can keep the cheese slices with zig-zag pattern on the top and and some ketchup as you prefer.

Place the top half of the burger bun with a slight angle so that the mouth of the burger is visible.

Take the 8 cocktail sticks and and insert olives into one end of each stick

Insert two sticks with the olives on top of the bun resembling eyes. Repeat this for all the 4 burger buns and now you're done!
Notes
This serving contains 495 k cal per each serving.
If you are lack of cheddar cheese , you can use any hard cheese type as you prefer.
2. Halloween Pumpkin cheesecake recipe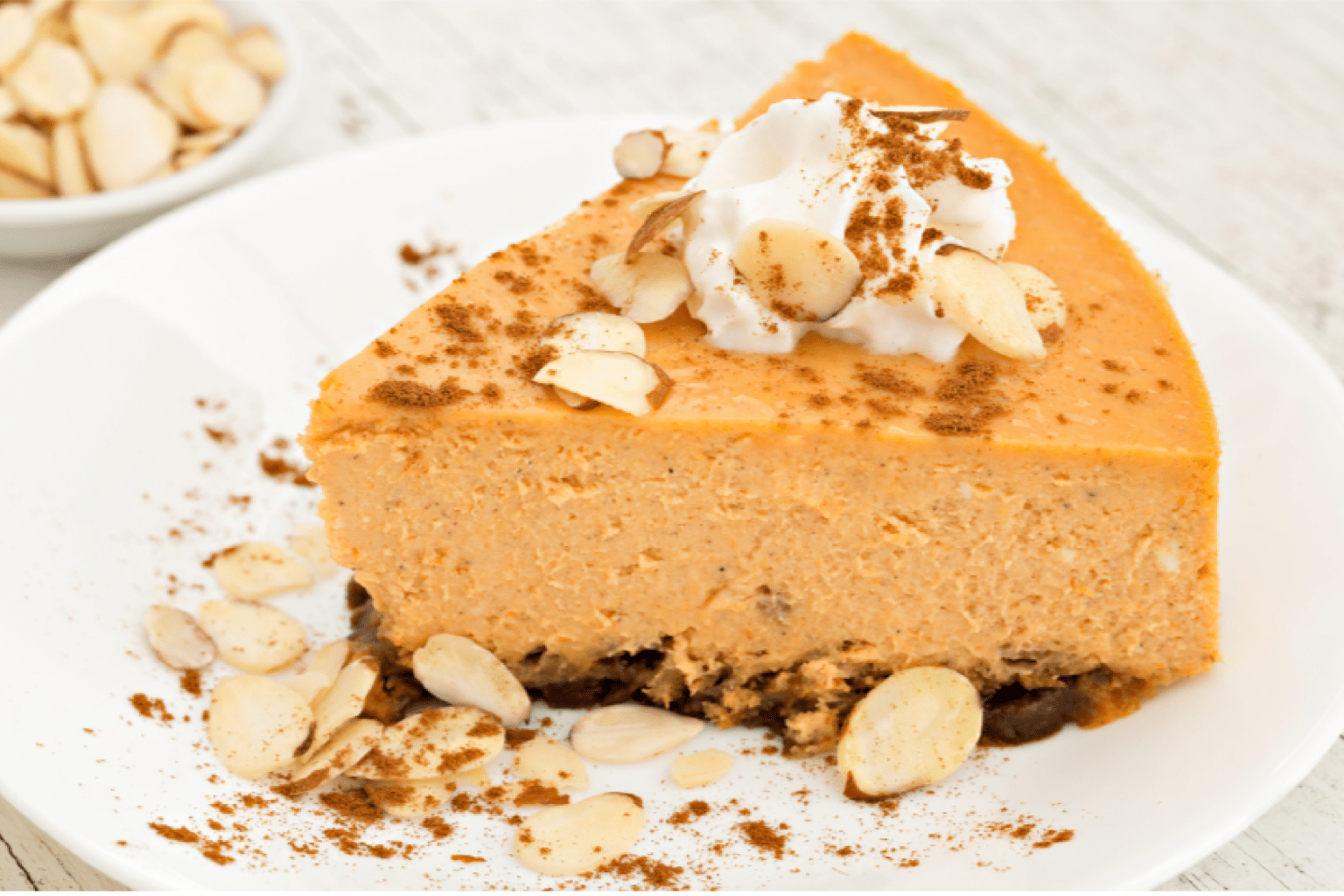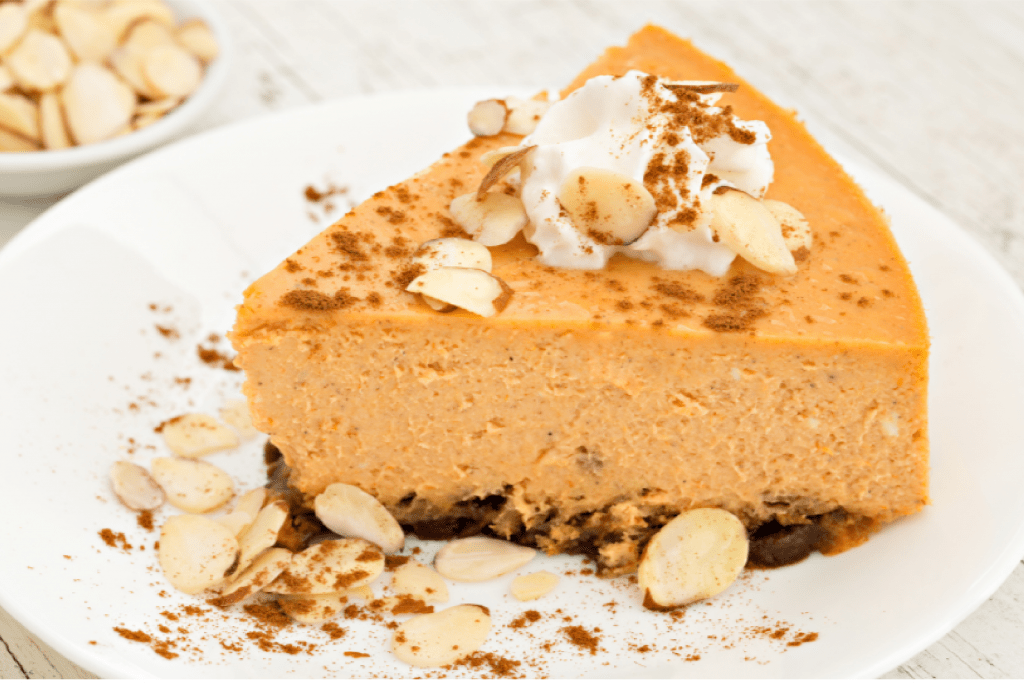 Pumpkin cheesecake
Ingredients
Cheesecake layer
2

ounces of

Softened cream cheese

½

tsp

of vanilla extract

½

cup of white sugar

9

inch

of ready prepared graham cracker crust

2

large eggs
Pumpkin layer
½

cup

of pumpkin puree

½

tsp

of ground cinnamon

1

pinch of ground cloves or add more if you like

1

pinch of ground nutmeg or add more if you like
Instructions
First preheat your oven to 165°C (or 325°F)

Using electric mixer, mix cream cheese, vanilla, and sugar in a large bowl until getting a smooth mix to make the cheesecake layer

Add each eggs one after the other and blend well. Then add 1 cup of batter into the graham cracker crust.

Start making your pumpkin layer by adding pumpkin puree, nutmeg, cinnamon and cloves to remaining batter and blend well by stirring gently.

Then spread the batter on the top of the cheesecake batter already on the graham crust.

Bake in the oven until the surfaces are firm and edges are puffy, but a small spot in the center of the cheesecake jiggles when gently shaken. Bake for nearly 35-40 minutes,.

After baking place it on a wire rack to cool to room temperature for 1 – 2 hours.

Refrigerate overnight or at least for 3 hours before serving
Notes
One serving contains 415 calories.
Refrigerate at least for 3 hours
3. Easy Halloween cookies recipe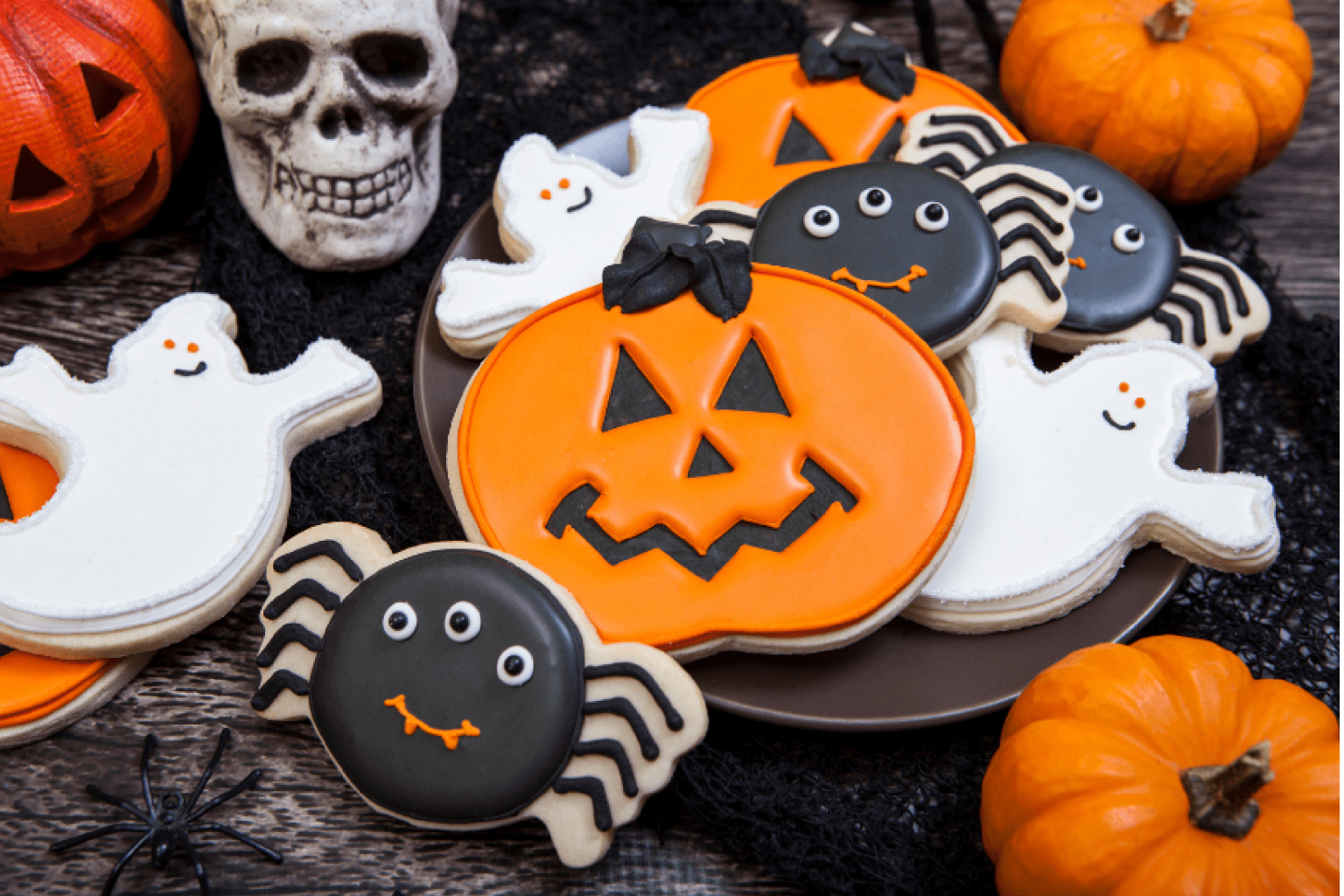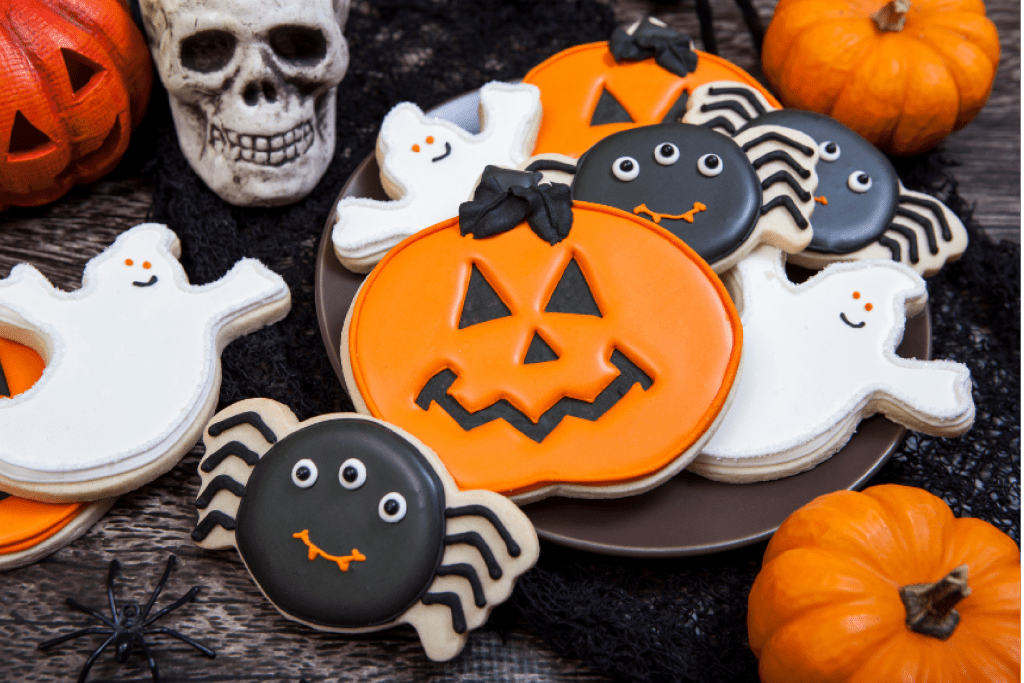 Easy Halloween cookies
These spooky spider cookies will excite your kid's Halloween memory a real fantasy. Try this for this Halloween!
Ingredients
Ingredients for cookies
150

g

of softened butter

100

g

light brown sugar

50

g

of caster sugar

1

tsp

of vanilla extract

250

g

of plain flour

100

ml

of milk or dark chocolate chips

¼

tsp

of baking powder

1

larger egg
To decorate to decorate cookies
60

g

of dark melted chocolate

20

maltesers

60

g

of royal icing sugar disolved in 2 tsp of water

10

chocolates (caramel-filled)

5

chocolate sandwich cookies (cream filled)
Instructions
Make your oven conditions to to 160°C / gas 4

Then beat the sugar and butter using an electric whisk until you get the desired texture(light ,fluffy nature). Add Eggs and vanilla while beating well to combine them perfectly.

Mix the baking powder and flour well with a dry wooden spoon until you get a stiff dough and combine them with chocolate chips

Divide the dough into 20 and roll them into balls. Then keep them on previously prepared baking sheets with enough gap in between them.

Apply a little pressure n the top of the cookie balls using a glass bottom or the palm of your hand. Bake them in batches for 10-12 minutes until a golden brown color appears on the edges.a

Allow them to cool for around 10 minutes and transfer to wire racks for complete cooling.
Decorating
Add the melted chocolate and royal icing to two separate piping bags. Add a dot of royal icing onto two maltesers and arrange those cookies resembling the head and body of the spider. Repeat this with other cookies as well.

Using chocolate piping bag draw 8 spider legs on each of the 20 cookies.

Pipe 2 small dots of icing to the head of spider resembling the eye and add very small chocolate dot to create the pupils of the spider.
Notes
One serving contains 222 Kcal
4. Halloween cupcakes recipe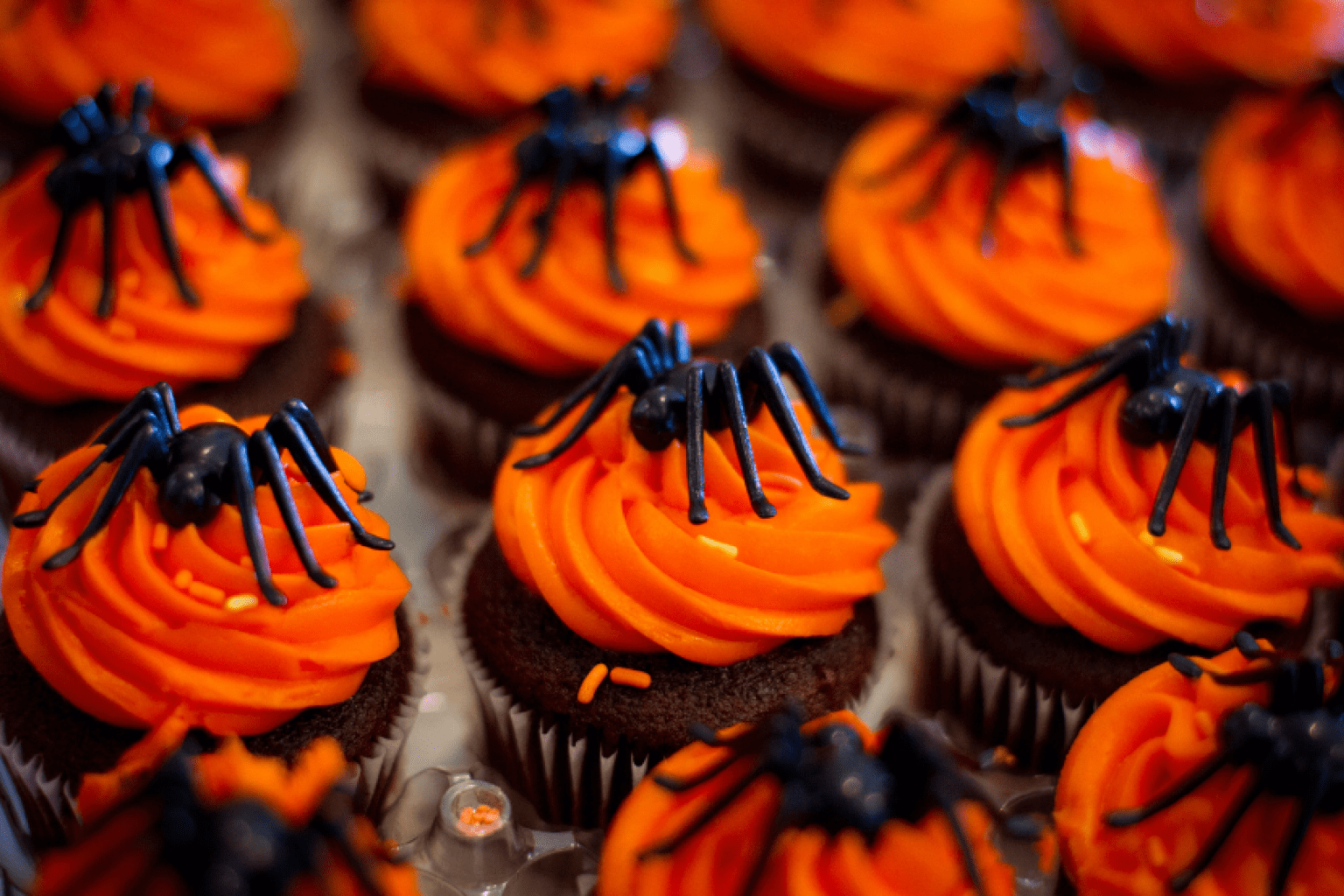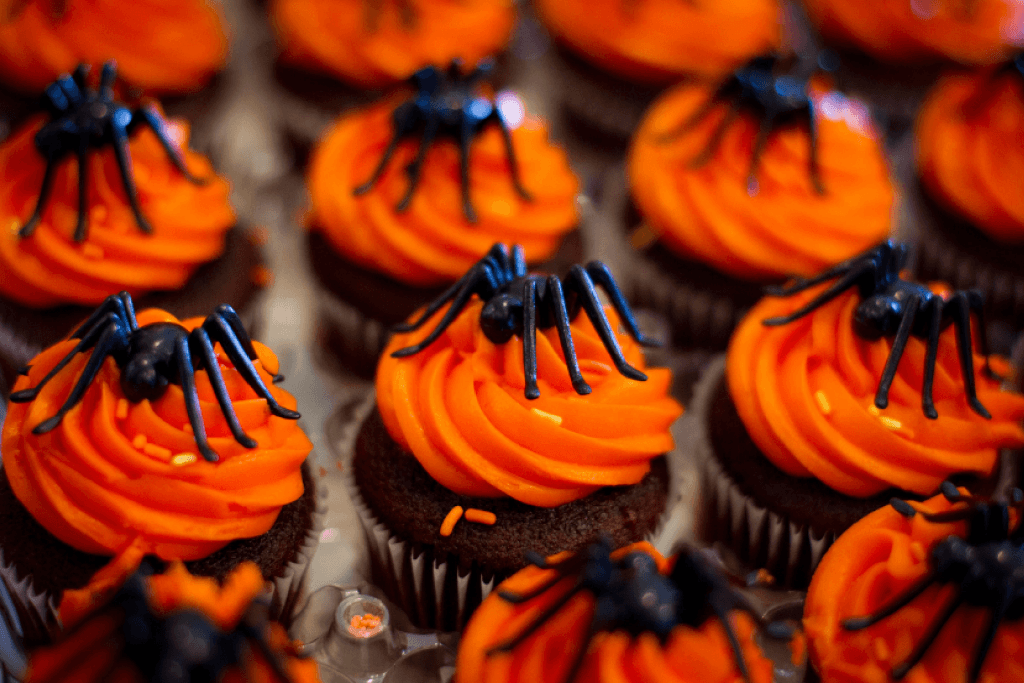 Halloween cupcakes
Ingredients
Main ingredients
200

g

of softened butter

200

g

of melted chocolate

300

g

of golden caster sugar

250

g

of raising flour

200

ml

of milk

50

g

of cocoa powder

¼

tsp

of baking powder mixed with 100 ml of fresh boiling water

1-2

tsp

food coloring (black)

2

eggs
Buttercream ingredients
300

g

of softened unsalted butter

500

g

of icing sugar

black colored food coloring

1

tsp

vanilla extract
Decorating ingredients
Black icing pen

Smarties pack

1

pack of mixed colored fondant icing (green, pink, blue and white)

Liquorice and strawberry laces and jelly fangs etc.

Icing eyes
Instructions
Heat your oven to 180°C / gas 4 conditions and arrange two 12 hole cupcake tins with the cases

Beat sugar and butter until the mixture becomes creamy. Combine the eggs and chocolate with proper beating.

Then mix the Cocoa powder , baking powder, food coloring and milk into the mix.Using a spoon add the mixture evenly into cupcake cases and level the tops.

Bake for nearly 20 min until the cupcakes are spongy and fluffy. First allow to cool within the tin and then place on a wire rack for cooling completely.

For making the buttercream, beat your butter until it becomes soft and then mix with the icing sugar. Mix the black coloring and vanilla to mix well and transfer into a piping bag which is connected with a nozzle.

To make monster faces,m you can cut small circles of blue and green fondant that fits the top of the cupcakes and fit them to the cupcake with a little bit of buttercream. You can add facial parts like mouth , nose and eyes using sweets or with icing eyes.

For skeleton shapes you can cut shapes with the white fondant and fix them in relevant places using buttercream.

In addition to monster faces you can incorporate any other creative halloween funny ideas into these cupcakes as you wish.
Notes
One serving contains 517 Kcal.
5. Pumpkin bakewell tart – one of the best Halloween recipes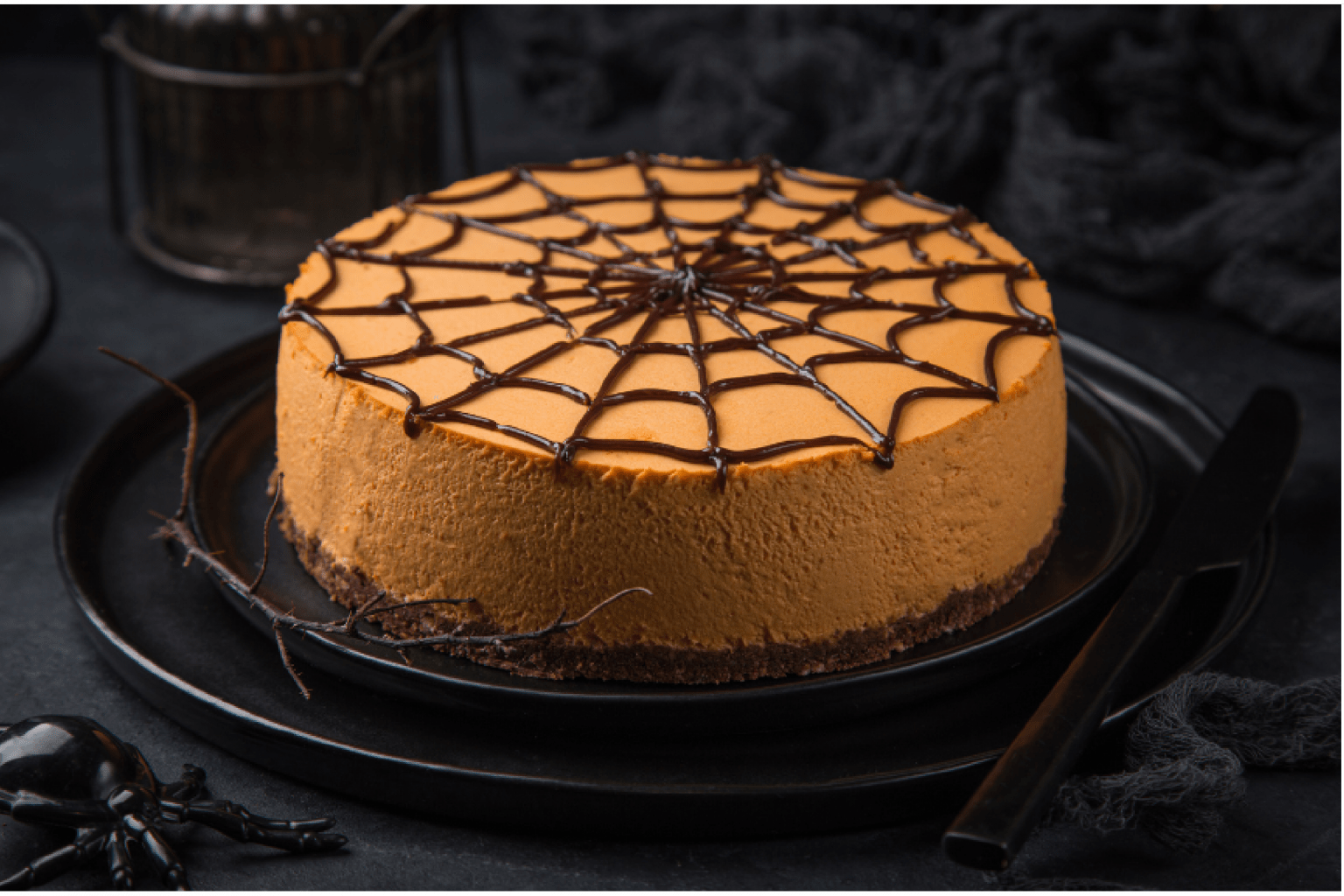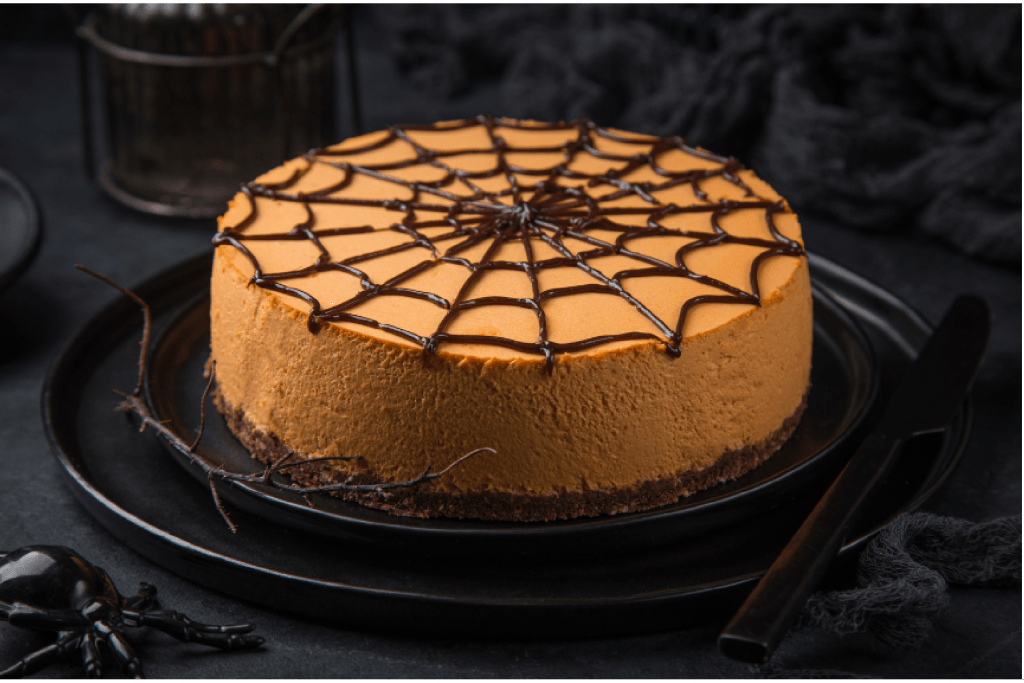 Pumpkin bakewell spider web tart
In this recipe there's a spicy pumpkin layer with a topping of Frangipane covered with icing before making your spider web decoration. This Pumpkin Bakewell spider web tart will be a perfect way for you to celebrate your Halloween with your loved ones.
Equipment
Oven

Food processor

Electric whisk
Ingredients
Ingredients for the pastry
25

g

of icing sugar

200

g

of plain flour (but you need extra for Dusting)

100

g

of chilled and chopped unsalted butter

1

tsp

of vanilla bean paste

1

egg
ingredients for the pumpkin layer
200

g

of pumpkin puree (cooked)

1

tsp

of ground ginger

1

tsp

of ground cinnamon

1

tsp

of ground mixed spice

2

tbsp

of icing sugar

2

tbsp

of milk
ingredients for the frangipane
125

g

of softened unsalted butter

125

g

of ground almonds

40

g

of plain flour

125

g

of caster sugar

2

beaten medium eggs
ingredients for decoration
300

g

of icing sugar

Orange food coloring paste

Black food coloring paste
Instructions
Pulse the icing sugar, flour, and butter in a food processor until the texture of the mixture is similar to fine breadcrumbs.

Mix egg and vanilla in a small bowl and add then again combine the egg mixture to flour. Place it on a work surface bring them together with the help of your hands. And wrap in a clingfilm after making it into a disc shape and allow to chill for 1 hr.

Lightly spread the flour throughout the workspace and roll the pastry. Use a nearly 23cm deep, round , loose-bottomed tart to trim the edges to make the pastry shape neaten. Then Chill for another 30 min until it gets firm.

Set your oven to 180°C/ mark 4 conditions. Line pastry case with a piece of baking parchment and fill it with baking beans. Put on a baking tray and bake for 20-25min until the pastry sides are set.

After that carefully remove the baking beans and parchment. Place in oven for another 5min, until your pastry gets a golden color and the base texture is sandy when touching. Keep aside to cool slightly within the tin until you make the fillings.

M ix all the ingredients required for pumpkin layer, until they are well combines. Scrape it into the pastry layer and spread evenly in a uniform layer.

For making frangipane, beat the sugar and butter using an electric beater until it becomes creamy and light (usually 5 min). Add the eggs and and beat gradually. Then mix ground almonds and flour using a spoon.After that add it on above the pumpkin layer an spread evenly to make a uniform layer

Until the frangipane turns golden and firm bake for around 30 minutes. Leave for cooling for 10min in the tin and transfer to a wire rack for cooling completely.

Put the icing sugar into a bowl and beat with 3 – 3.5 tbsp of water to form a thick, smooth icing. 

Separate 1 tbsp of icing into a another bowl and add black food coloring. Then take a piping bag and transfer the black colored icing into it. Use the remaining icing to dye with orange food coloring.

Once the tart cools completely, pour the orange colored icing and spread evenly with a palette knife.Using black color icing ,Draw 6 concentric circles on the orange icing. With a proper stick before the black icing sets drag lines from inside to outside resembling a spider web.

Keep for 25-30 minutes to set before serving.
Notes
One serving contains 697 Cal
6. Halloween doughnuts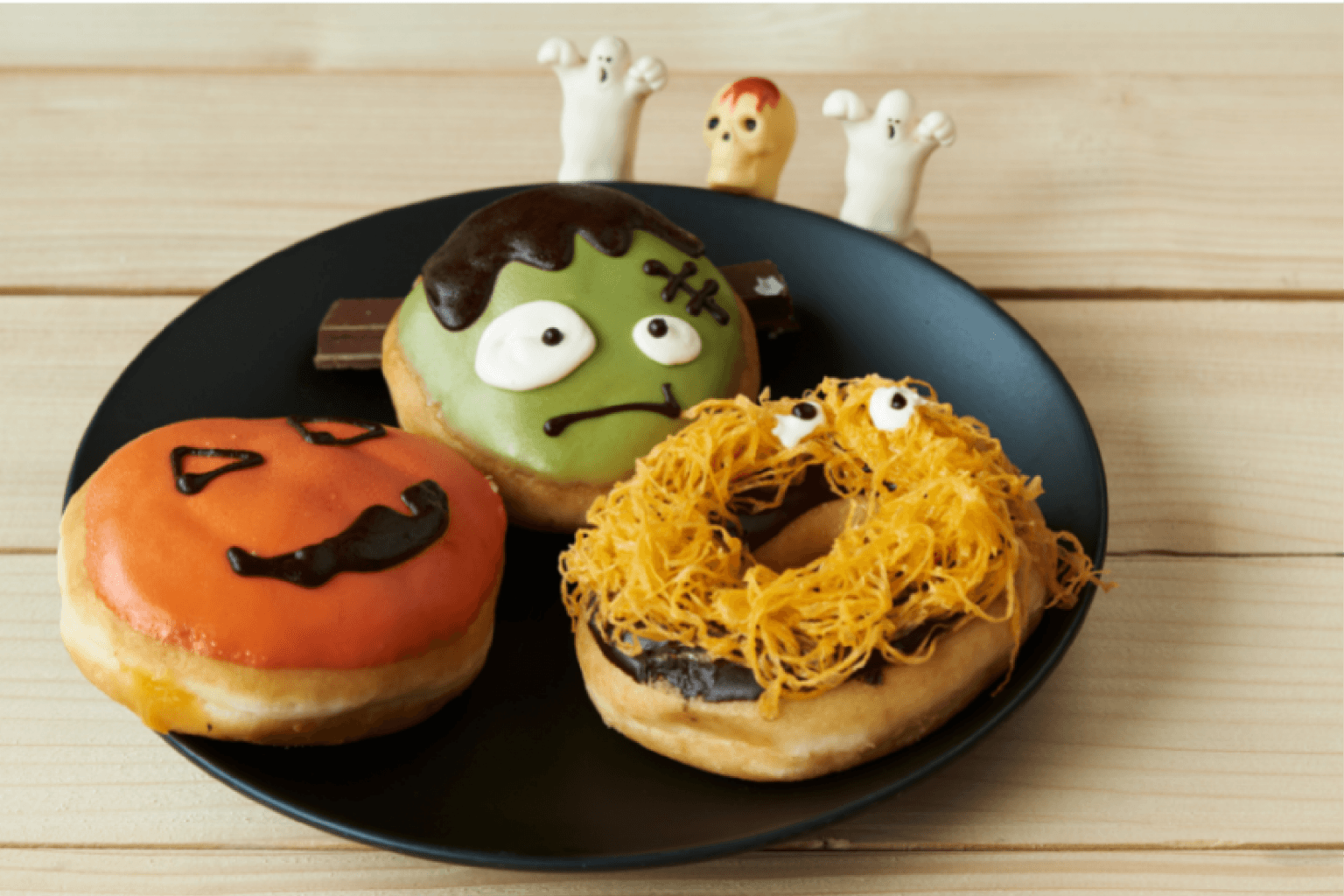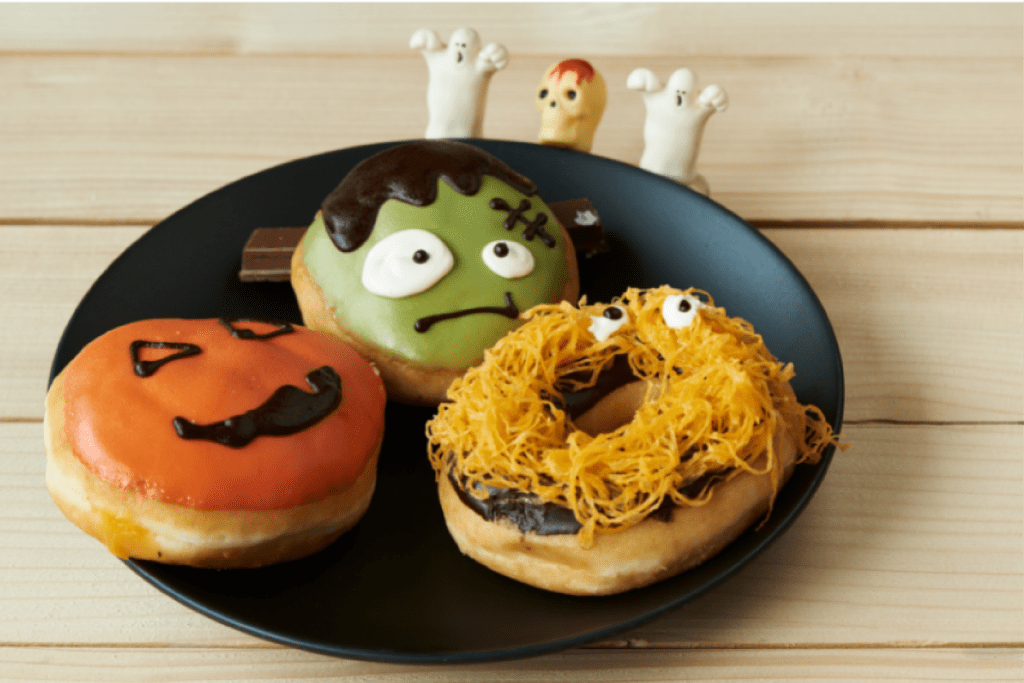 Halloween donuts
Enjoy your Halloween celebration with wonderful Halloween donuts which will make your festival season a memorable fantasy to share with your loved ones!
Equipment
Oven

Cooling rack

Heatproof bowl
Ingredients
Main ingredients
150

g

of softened unsalted butter.(need extra for tins)

150

g

of plain flour

25

g

of cocoa powder

150

g

of caster sugar

100

ml

of whole milk

1

tsp

of vanilla extract

1

tsp

of baking powder

1

large egg

¼

tsp

of salt
Decorative ingredients
200

g

of white chocolate

200

g

of dark chocolate
Instructions
Heat the oven to 180°C / gas 4 conditions and apply butter in 12-16 silicone donut moulds.

Beat sugar and butter in a large bowl using an electric beater. Then beat in the eggs and mix well with plain flour, salt, cocoa powder, baking powder, vanilla and milk .

Add the mixture into moulds bake them for 10-13 minutes. They will start to come away from the mould edges.

After removing from oven turn the moulds upside down an place on a cooling rack. After 2-3 minutes remove the moulds carefully and keep for cooling completely.

Melt the dark chocolate in a heatproof bowl over a pan of simmering water, making sure the bowl doesn't touch the water.

Then dip the top area of the donuts into melted chocolate and place them on a trey with the chocolate coated side up.

Using the same process melt the white chocolates and using a stick draw concentric white chocolate circles from in to out.

Without letting the white chocolate to dry, drag the inner circle out to make the points of the spider's web. remember to set the the chocolate fully before serving
Notes
One serving contains 348 Kcal.
With air-tight conditions you can keep them up to 2 days
7. Halloween Apple candy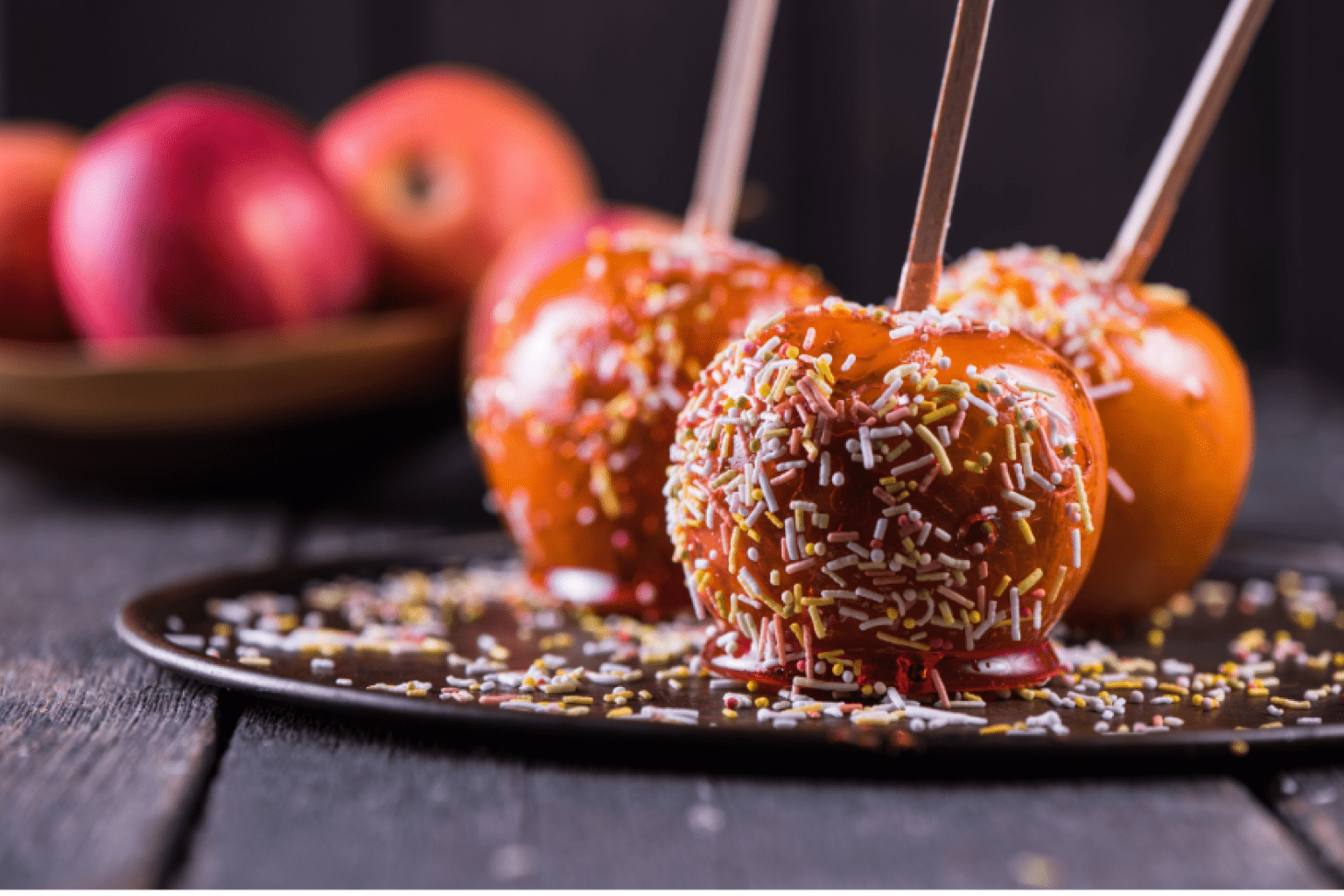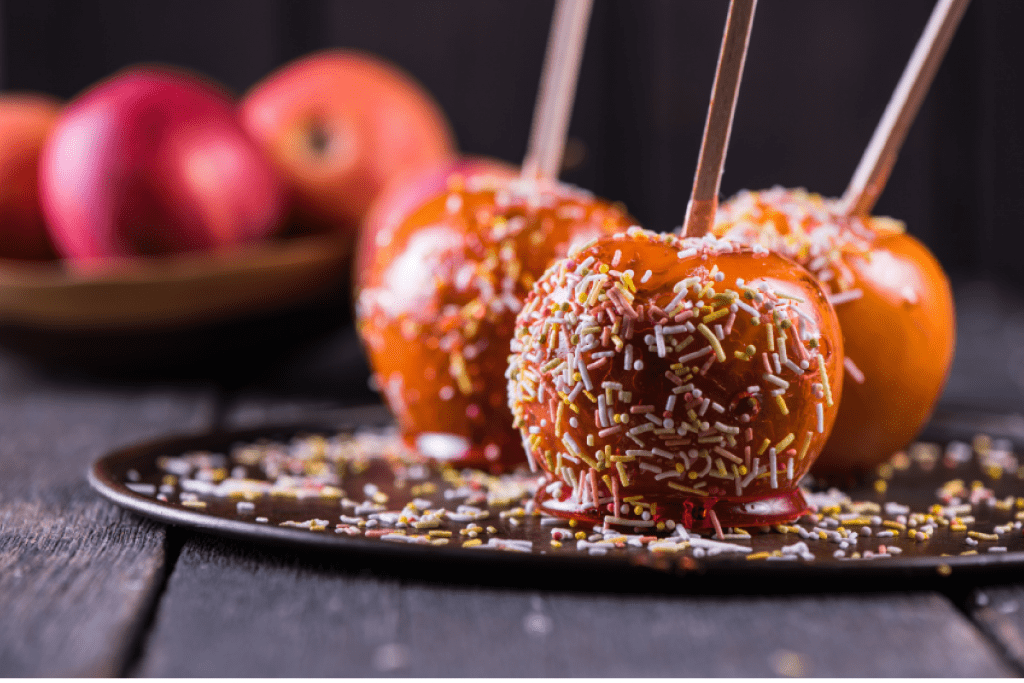 Halloween apple candy
Halloween candy apples are the perfect fantasy for your kids in this festival season. Not only for Halloween you use this for many occasions like birthday parties with different vibrant colors.
Ingredients
Main ingredients
8

red apples

1

tsp

of lemon juice

4

tbsp

of golden syrup

400

g

of caster sugar

Few drops of red food coloring
Extra ingredients
8

Sticks (chopsticks or Lollysticks)
Instructions
Put the stalk- removed apples into a heatproof bowl and dip them in boiling water. Keep for 3-4 minutes. Then remove using a slotted spoon and pat them dry.

Insert the most sharp end of sticks into the stalk-end of the apples, to make sure that they are firmly wedged in. Then place a large baking parchment piece on a board.

Add sugar into a saucepan and add 100ml of water and lemon juice. Allow to simmer and continue cooking until all the sugar is dissolved. Then add the old syrup and again allow the mixture to simmer until it reaches 150C on sugar thermometer(hard crack stage)

If there's no thermometer you can test the toffee by putting it into cold water. If it's harden once added to water and becomes brittle after removing then the mixture conditions are perfect. Add a little drop of the coloring and swirl to combine the. Then you can turn off the heat.

If the texture is not ready yet you can continue to boil until you get the desired texture.
Notes
One serving contains 284 Kcal.
The apples are soaked on boiling water to remove their protective wax so that it facilitate toffees stick onto apples.
8. Halloween pasty snakes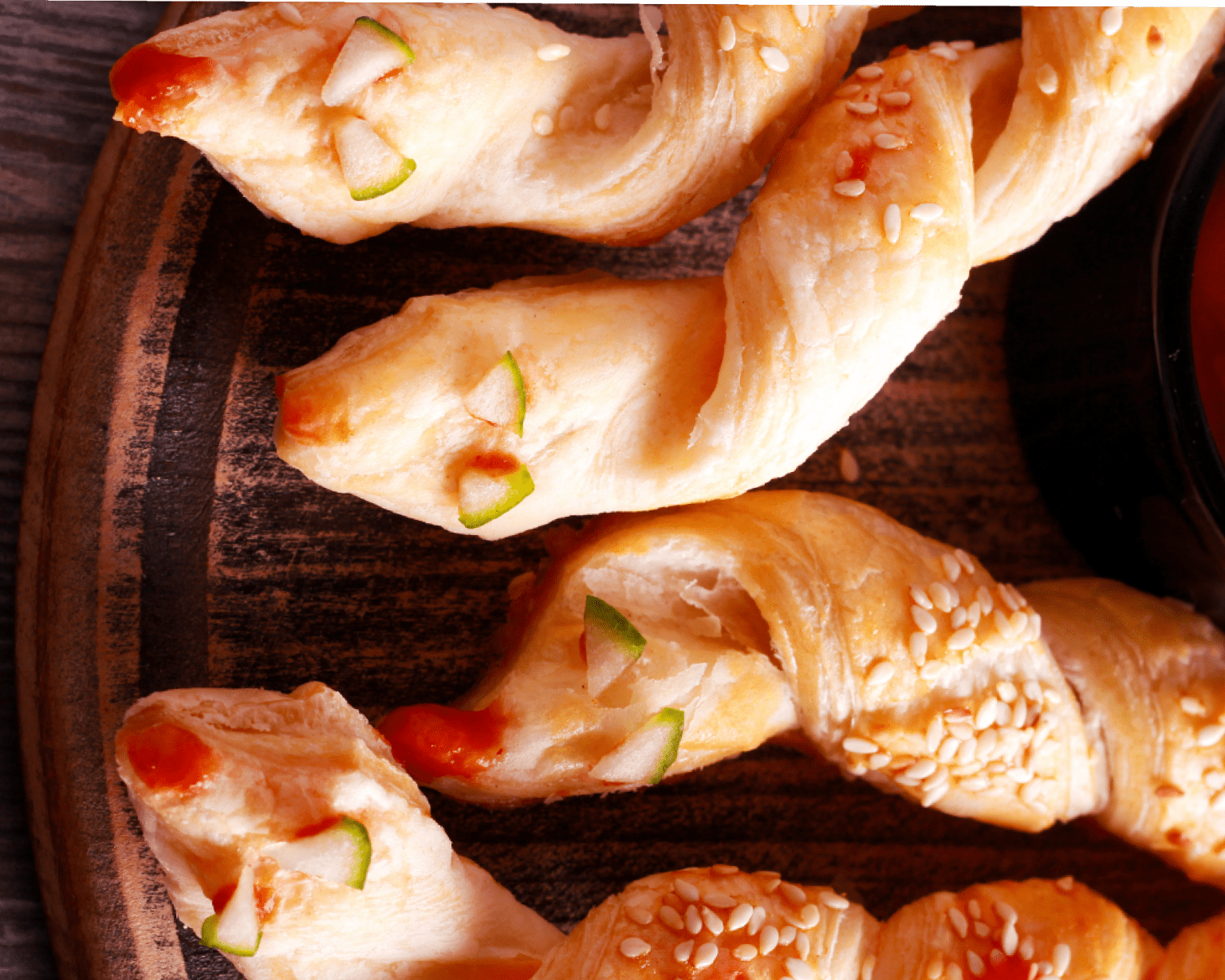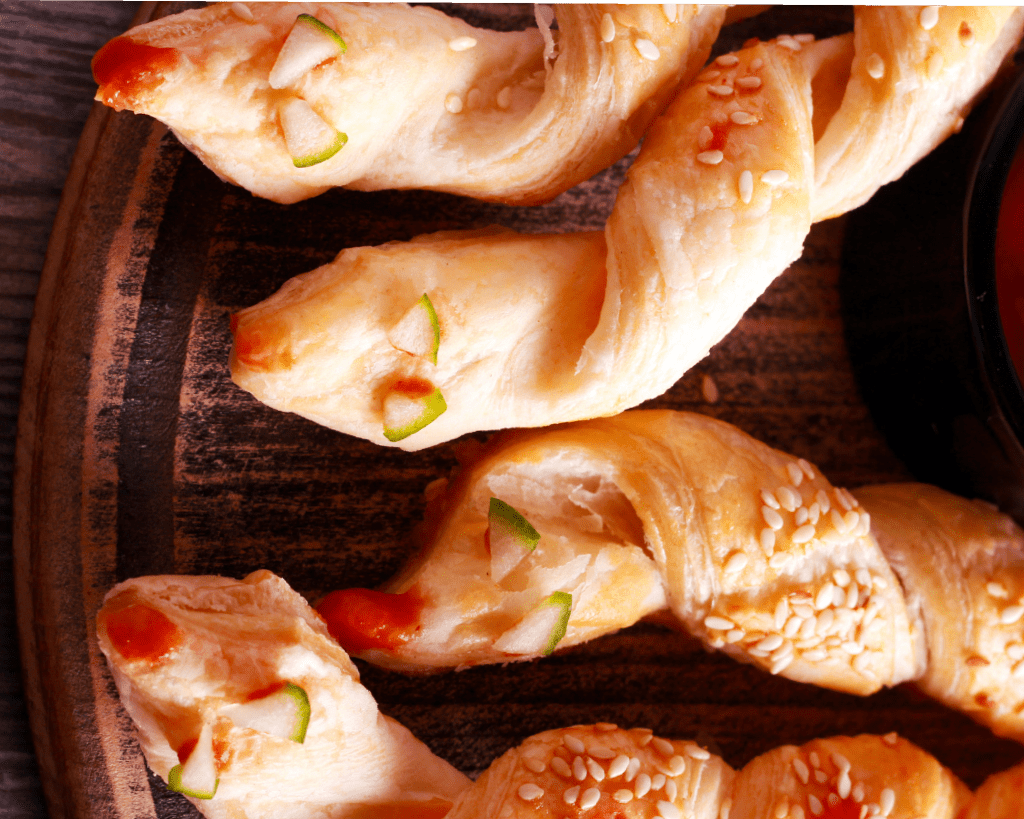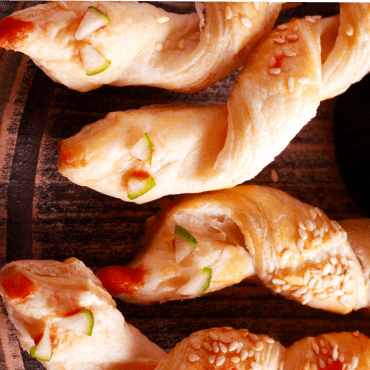 Halloween Pastry snakes
This is an easy Halloween recipe which you can serve at your Halloween parties as a snack for kids and your loved ones. Furthermore you can enhance the flavor by adding different seed varieties to the coating.
Ingredients
320

g

of already rolled puff pastry

flour as per requirement for dusting

50

g

of grated Parmesan /vegetarian alternative

1

beaten egg

seeds to decorate and add flavor( poppy, celery, nigella, sesame etc.)

Green or black peppercorns
Instructions
Initially heat the oven to 220°C.

Unroll the pastry and add several handfuls of Parmesan on the top of it.After that fold into half by placing one half on the other.

Apply some flour on a surface and roll the pastry into a thickness of 2mm.

Cut into 1cm strips and twist them forming the shape of a snake.

After preparing snake shapes, lay them on a baking sheet and brush each one and with eggs and spread some grated cheese.

To decorate and add flavor profiles scatter some seeds on the surface.Flatten one end and keep peppercorns to indicate the eyes.

You can bake them for 12-14 minutes until a golden brown color appears. Then leave for cooling.
Notes
You can keep them for 2-3 days if air – tight storage conditions are used.
Add different flavor profiles by adding variety of seeds
Final thoughts
Try these best Halloween recipes with your loved ones so that you can enjoy your festival time to the fullest. And keep in mind the Halloween recipes are all about fun and your creativity. So incorporate your creativity more into these recipes so that you can enjoy more.
For the flavor enhancement of these recipes if you have new ideas try to do them as well. And don't hesitate leave comments after trying those wonderful recipes. Enjoy your Halloween surrounded with the best festival foods!