If you've ever thought of making your own healthy food, you've probably considered the pros and cons of blenders vs juicers.
Although it sounds like both devices do the same thing, there are many differences. In this article, we go over how the two work, who each one is for, and which you should get.
blenders vs juicers- What are they?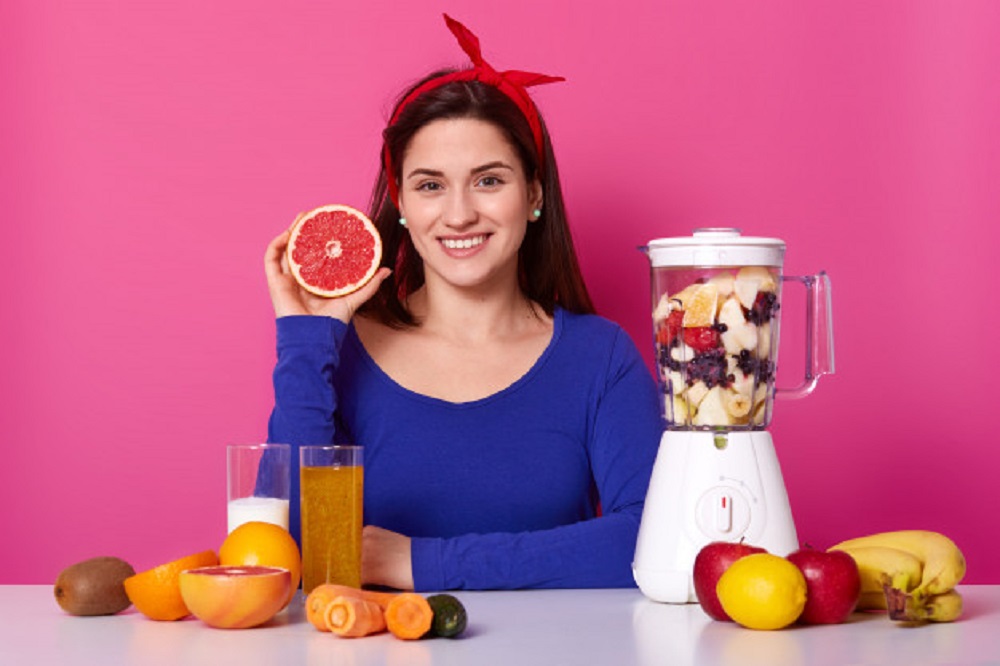 You might not have even come across this debate unless you've been doing some research into health and dieting. This is because most people just buy one and go along with it. And that's okay.
But we'll help you make an educated decision. The most important consideration? Your goals. Because your health and where you want to take it holds significant sway over which device you should pull out that credit card for.
For starters, though, let's look at the way blenders and juicers do what they do. Then, let's look at the qualities of the juice each makes.
Blenders
Blenders are the all-purpose heroes of any kitchen. Whatever you put in, a blender will — you guessed it — blend.
There aren't really many types of blenders based on how they work. But if you want a dichotomy, there are two types of blenders, based on size.
Single serving blenders are smaller, easier to use, and more power-efficient. You add all the ingredients to a flask which doubles as the lid of the blender. And once you're done blending, you have a single serving of juice ready to go.
The other type is the jug blender. These would be more suitable if you want to maker larger batches of juice. They're bigger, bulkier, and louder than a single serving blender. But other than that, blenders aren't that different from each other.
All blenders work by spinning some sharp blades very fast. The speed at which the blades work can be anywhere from 20,000 to 30,00 revolutions per minute. This is great for two scenarios:
If you want to blend hard ingredients
If you want to get the juicing process done fast
It's also worth remembering that blenders leave fiber and other large nutrients in.
Juicers
In the other corner, we have juicers. They aren't as commonplace as juicers, but they still have their place in many modern kitchens.
Depending on how they work, there are two types of juicers out there.
Centrifugal juicers, and
Masticating juicers
Centrifugal juicers have a spinning metal blade that presses your ingredients against a strainer. This juice drains off into another container. What's great about this system is that you don't have to worry about any pulp. All of that's left behind on the other side of the strainer.
Moving on to masticating juicers. If you hear the words "cold press juicer" being thrown around, it's this type being talked about. These are dedicated juicing machines. Yes, they're slower, larger, and more expensive. But the juice you get from masticating juicer has pretty much any other kind of beat. This is because they're incredibly efficient at keeping the nutrients in the juice.
Juicers work by extracting the juicy goodness from fruits and vegetables. But that's where the similarities end. While blenders leave fiber and pulp in, juicers strain these big bits out.
But for now, keep in mind that the juice you get from juicers is generally rich in vital nutrients. It's also thinner and more concentrated.
Because of the way juicers work, you'll need a lot more ingredients to get the same amount of juice you'd get from a blender.
blenders vs juicers— which is better?
As with everything, both sides of the coin have their own merits. In one corner, we have the all-around blender. In the other, we have the nutrient-saving juicer. Who'll win the kitchen-shelf showdown?
Let's go through the rounds and look at what makes each device shine.
Pros of a blender.
Works great with soft ingredients. And most fruits and vegetables count as soft ingredients.
Gets the job done quickly.
They're cheaper. Much, much cheaper. You can get away with spending about $100.
No pulp to throw away. Cleanup is much easier.
Because said pulp is in the juice, you'll get tons of fiber.
This fiber makes the juice "last longer" in your system, and you get the energy and nutrition for longer.
Pros of a juicer.
Soft ingredients, hard ingredients, juicers don't care. Works great with any fruit or vegetable.
The pulp gets left out. Your juice would be easier to digest.
The juice is also more nutritious.
Blenders vs juicer: What should you go for?
So which is better — a blender or juicer?
The answer comes down to you, the reader.
Because here's the thing. These two devices work differently and produce different types of juices. And because of this difference, it's up to you and your preference to decide which option to go for.
But worry not, we've made the decision a little bit easier to make.
You should get a blender if you…
Want to make smoothies
Need fiber in your diet
Need something less expensive
Like to feel fuller for longer
You should go for a juicer if…
You want to make fresh juices
Your digestive system doesn't agree with fiber or pulp
You need tons of nutrients in your juice
You'd like a quick energy boost
The power, as they say, is in your hands. Now you have an understanding of which option to go for. Let's look at some good brands you should probably keep your eye on.
blenders vs juicers: Top options to consider.
These companies are great at making culinary devices be that blender or juicer or anything else.
Brands that make brilliant blenders
Vitamix
NutriBullet
Oster
Hamilton Beach
Breville
Brands that make jaw-dropping juicers
Black and Decker
Omega
Kuvings
Hamilton Beach
Breville
Final thoughts on blenders vs juicers..
Blending and juicing are both great ways to turn fruits and other ingredients into a ready-to-go food item. But neither is necessarily better or worse.
Like we said in the article, the best option for you boils down to none other but you. Understand what your body needs, and then pick the option that works for you. Whether you pick a blender or juicer, you'll thank us in the long run.