You have cooked a lot of recipes, right? Such as Princess chicken, Cheese Burger, Moo Shu Shrimp, Cowboy Pizza, etc? But if you are new to chicken recipes, you need to know what is chicken fillet. But if you know what it is you can just jump into the recipe.
Chicken breast is the boneless, lean cut of meat taken from the underside of the chicken which is comparatively large. The fillet means uniformly sliced parts of the breast with the same thickness. Slicing gives them a steak shape so that they perfectly fit into buns and other related products. You can simply call "chicken breast fillets" as Chicken Breast Strips.
There are some who say that there's a difference between the taste of chicken breast and breast fillet. The reason may be the small size due to the slicing of the chicken breast. Because it increases the surface area of the meat. So that the flavor absorption is higher and uniform in the fillets.
Now let's jump into the Recipe.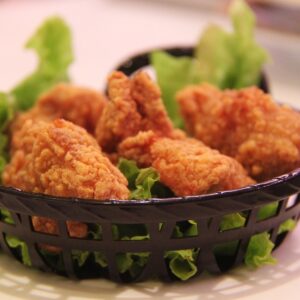 Crispy Chicken Breast Fillet
Crispy Chicken Breast Fillet
Equipment
Non-stick pan /skillet

Oven /Airfryer
Ingredients
700

g

of Chicken breast (boneless & skinless), Cut into strips of uniform thickness 0.5-0.6cm

250-260

ml

of Buttermilk
Breading
125

ml

or ½ cup of All purpose flour (unbleached)

625

ml

or 2 ½ cups of Breadcrumbs (panko)

15

ml

or 1 tbsp of chilli powder.If you want more spiciness, add a little more.

3

ml

or ½ tsp of garlic powder

40

ml

or 2-3 tbsp of olive/canola/virgin coconut oil

3

beaten eggs

1

g

or ½tsp of ground coriander

1

g

or ½ tsp of Rosemary

salt and pepper to taste
Instructions
Chicken
Dip the fillets in buttermilk and keep overnight (min 4-5 hours)
Breading
First take a bowl and mix flour, garlic powder, chilli powder, coriander and rosemary.Then season them with salt and pepper

Place the beaten eggs and breadcrumbs in two separate bowls.

Take the fillets from buttermilk and drain them.After that apply the flour mixture uniformly on the fillets.

Dip the fillets in beaten egg sap and remove excess by shaking.Plress the fillets on bread crumbs to coat uniformly and thoroughly.

Obtain well coated chicken fillets
Freezing
Keep the fillets in the freezer for 4 hours. Do not pack them tighly for freezing,otherwise it is difficult to separate them after freeing.
Cooking
Add oil to the skillet. Under medium heat, brown the chicken fillets for 3 minutes on each side.

Do the final cooking for 5 minutes or more in a preheated oven at 180°C (356°F) until you get the desired texture and apperance.

Enjoy with the dipping sauce.
Notes
In additionto all purpose flour if you want ,use some corn starch and rice starch to get a crispy texture.

For more healthy options for frying it's better to use olive oil

You can add buttermilk to enhance the tenderness and flavor in meat which will result in a more unique flavor. Slight acidity of buttter milk can tenderize chicken without toughening the meat. If buttermilk is unavailable then you can add vinegar or lemon juice to milk,to get the same effect.
Nutrition facts
Calories
383
Fat
12.2g
Protein
36g
carbs
30.5g
Fiber
2g
Sodium
177mg
Nutrition per 1/6 th of the recipe
Other Recipes with chicken fillets
Juicy garlic butter chicken
Paprika cream chicken
Spinach stuffed chicken breast
Chicken Marsala with Mustard & Mascarpone
Quick & Easy Chicken Tikka Masala
Chicken Villeroy
Nashville Hot Chicken Strips
Chicken Madeira
Spicy Garlic Lime Chicken
Chicken Bake Parmesan
Asian Chilli Chicken
Chicken Pasanda
Buttermilk Chicken Tenders
Final thoughts
Try this recipe with your loved ones. enjoy a restaurant-style recipe at your home easily!!
In addition to the given ingredients in the recipe if you need more spiciness or flavor, try adding some other spices to enhance the flavor. Don't forget to leave your comments and let us know