Sous vide scallops are indeed the perfect way to eat Scallops with the desired doneness. Scallops very easily get overcooked most of the time. But what you want in a scallop recipe is that it's inside soft, juicy, and outside crispy. Of course, you can obtain a tender juicy and crispy scallop recipe with the sous vide scallop recipe, surely it would perform better than a restaurant seafood meal.
What is sous vide technique?
Well, this is a cooking technique where scallops are sealed in a vacuum bag and you can regulate the temperature by immersing it in water. In here the temperature is low, which makes the cooking time longer. But this is the secret behind the desired texture you obtain for scallops with this method.
Preparation time – 10 minutes
Cooking time – 40 minutes
Total time – 50 minutes
Ingredients you need ( for 2 servings)
6 -8 seafood scallops
Ground pepper ( to taste)
Salt (to taste)
1/2 tbsp of olive oil
1 tsp of finely chopped garlic /garlic powder
2 tbsp of lemon juice
2 tbsp of butter
1-2 tbsp of chopped onions
Important tips
Choose good quality scallops– light pink color or baige color
Avoid using virgin olive oil ,use regular olive oil
After adding salt and pepper to taste, better to add unsalted butter, otherwise the saltness can be high
In addition to above ingredients, add cajun saeasoning if possible
For proper searing, pat dry the scallops well! By removing moisture as much as possible,it will improve the contact between scallops and the skillet.This will reduce formation steam and give the desired doneness to sous vide scallops.
Easy steps in making sous vide scallops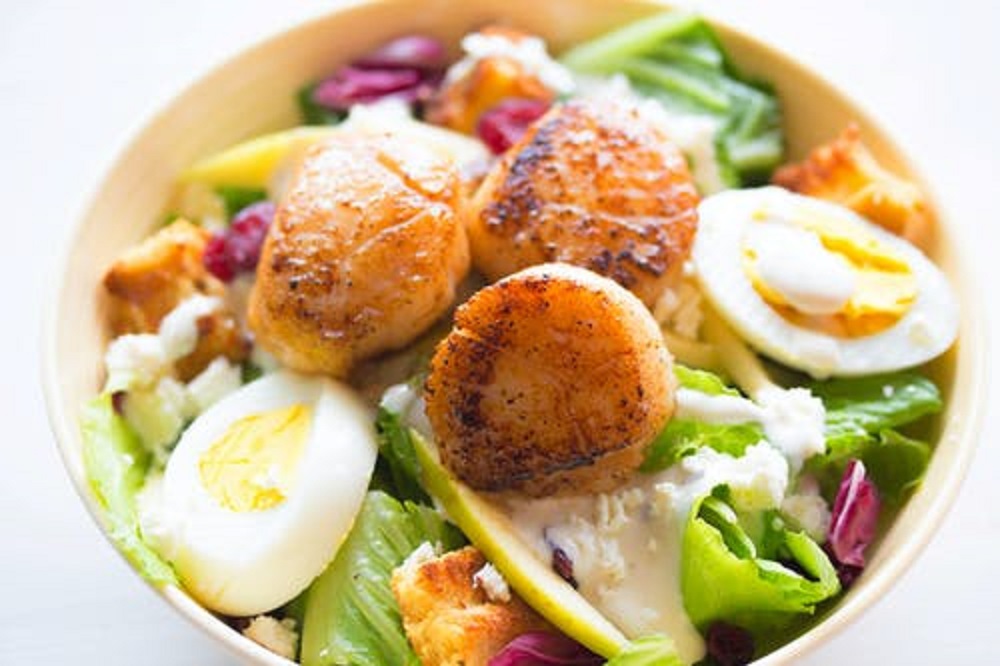 Seasoning
First, season the scallops with olive oil, salt and black pepper to taste.
Add only a part of the olive oil, because you need the rest for another step.
Keep for some time so that the scallops will be enriched with flavors. (Remember to remove the tough muscle , if it's present)
Next steps
Fill a medium sized pot with warm water and attach the sous vide machine to it. Set the temperature to (510 C) 123 0 F for 30 minutes.
Put the scallops to a resealable plastic bag ,and remove the trapped air using water displacement technique ( Take the resealable bag with scallops while keeping one end of the seal open. Immerse the bag in water. Seal the bag when it is dipped in water.Remember to keep the sealing part of the bag above the water level when sealing.
Then cook in the sous vide machine for 30 minutes
Take the scallops out of the bag and dry them using a paper towel if they are wet.
Add the remaining olive oil and butter to a skillet and Heat using medium to high heat. Put the scallops into it and sear until get caramelizd .This may take 2 minutes. Turn the other side of the scallops and cook for another 1 minute.
After that remove from the skillet and move to a warmed dish.
Garlic lemon sauce
Add some garlic to the skillet and cook until you get the garlic fragrance. This may take 15- 20 sceonds.
Then deglaze the skillet with lemon and white wine. Avoid brown bits by scraping them. If possible add cajun seasoning to this misture and mix well.
Simmer for around 2 minutes
Add this sauce over sous vide scallops and enjoy it!!
Nutrition Facts ( per serving)
| | |
| --- | --- |
| Calories | 152.5 |
| Carbs | 4.5g |
| Dietary Fiber | 0.15g |
| Fat | 11.1g |
| Saturated fat | 4.75g |
| Cholesterol | 35.29mg |
Data are based on 2000 calorie diet
Final thoughts
Sous vide scallop recipe is an excellent choice for your taste buds and to make a restuarant type meal at your home. Similar to garlic lemon sauce you can add various other ingredients to enhance the flavor of the recipe and share it with your loved ones. Try this recipe with new ideas.
Do not miss to share the comments with us!!