How many Chicken Recipes you have cooked before? Princess Chicken, Cheese Burger, Moo Shu Shrimp, Cowboy Pizza? But do you know what? Among all those, EMPRESS CHICKEN is one of the most delicious Chinese chicken recipes originally served to the royal families.
Empress chicken – In Short
There are many variants but the most common way is using a big chunk of boneless chicken breasts and then you need salt, soy sauce, sugar, sesame oil, and rice wine vinegar, and some other few ingredients to put together and mix with your hands until it becomes a thick paste. Fry the chicken pieces and then rub the mixture all over all pieces of chicken and you are ready to put them in the oven or roasting pan to cook. After cooking for around 10 minutes at 325-370 degrees you are all set to the table. But before serving just dip the chicken in the sauce as well. 🙂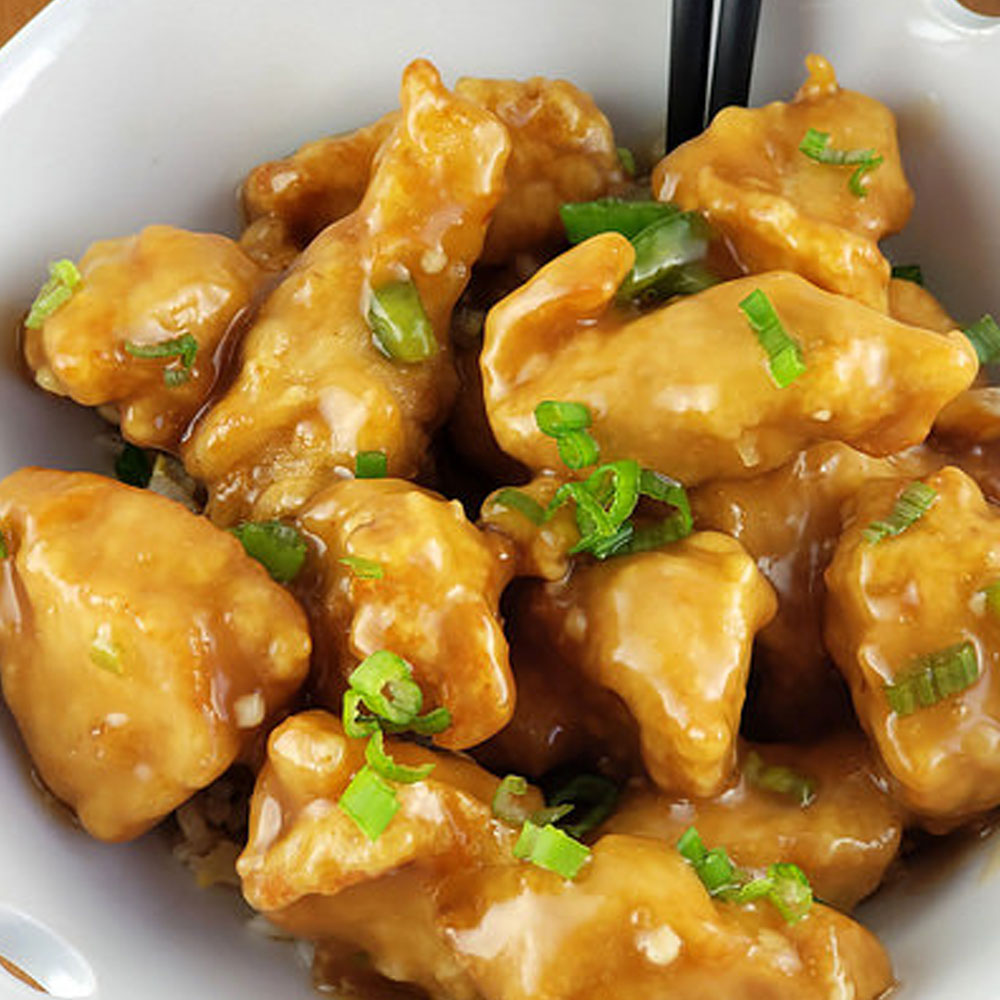 Do you see? It's not just delicious but it's super easy to make. Crispy and tender chicken topped with a sweet, savory, and slightly spicy straw fry sauce. And it takes only about 20 minutes to prepare and will surely provide a delicious and satisfying meal that will make your family and friends SUPER IMPRESSED.
---
How to Make Empress Chicken Recipe – Tips
So, here we are to get started with our recipe. And here are some tips to make your recipe really delicious and of restaurant quality.
Velveting – The process by which the chicken stands out in this Empress' chicken recipe is called "Velveting". To velvet, the chicken, mix the egg whites, rice wine, and cornstarch and marinate the meat. This softens the meat and is often blanched to prevent overeating during frying. Also, don't worry you can get the restaurant quality at home as well.
Breading/ Frying – When you are frying, it needs to come really well. In this case and when considering flavor, Breading is super important. So, here are some of the best tips you can follow.
Resting is really important do not skip – If you skip this step, the meat won't get tendarize properly. And also resting will help on coating ingredients as well.
You may not need a deep – fryer – You can use home skillet or a wok to fry chicken. Using deep fryer may be a little bit costy but it works well as well. And if you are cooking recipes frequently, it's better to invest in a good thermometer to measure temperatures. Because keeping temperature constant is really important to cook the chicken without burning and breading.
Keep the fried chicken pieces warm – This is not esseantial but it's helps you in batch frying. If you are batch fryig the previous batch may lose heat while fryig the other one. So, to keep the freshness, you can keep the previous batch in a oven at 250 celcius.
Serving – If you think about health, it's better to have a pound of shrimp for the chicken in the dish. Coz, you'll be able to shave off a few of Empress Chicken Calories.
Empress Chicken Ingredient – Tips
Chicken – Use a big chunk of boneless chicken. Chicken breast is the best but you can use Chicken thighs as well, coz it may be cheaper a bit. But trust me, If you can use meaty, chicken breasts, that would be really great!!!
Vodka (The Secret) – This is the only unusual ingredient in my recipe marinade is vodka. Vodka fights gluten in the dough and prevents it from becoming too thick and sticky. It evaporates faster than non-alcoholic liquids, which means it gives more air bubbles and form smooth borders around the chicken with tons of extra crunch. It's a secret for this recipe but, you can use in other fried dishes too.
Storing – Tips
It's so delicious. yes! But what if after having dinner still there are some leftovers?? You have to keep them for tomorrow as it is for tonight's dinner right? So, how you can store it?

Freeze it!! You can treat your empress chicken as chicken nuggets. But since the nuggets are covered with the sauce, you may lose the crunch appearance and signature with time.
But if you know that some will be left after having dinner, you can keep a few nuggets without applying sauce until you eat them. With that, you'll be able to freeze them without losing the crunchy nature, and then when you are heating the nuggets using an oven, you'll get the crunch nature back.
And finally, just FYO, you can store Chicken nuggets for up to 3 months.
Serving – Tips
As this was made for royal families, they mostly used this with a bowl of hot rice. I think still the best way is with some Asian coleslaw.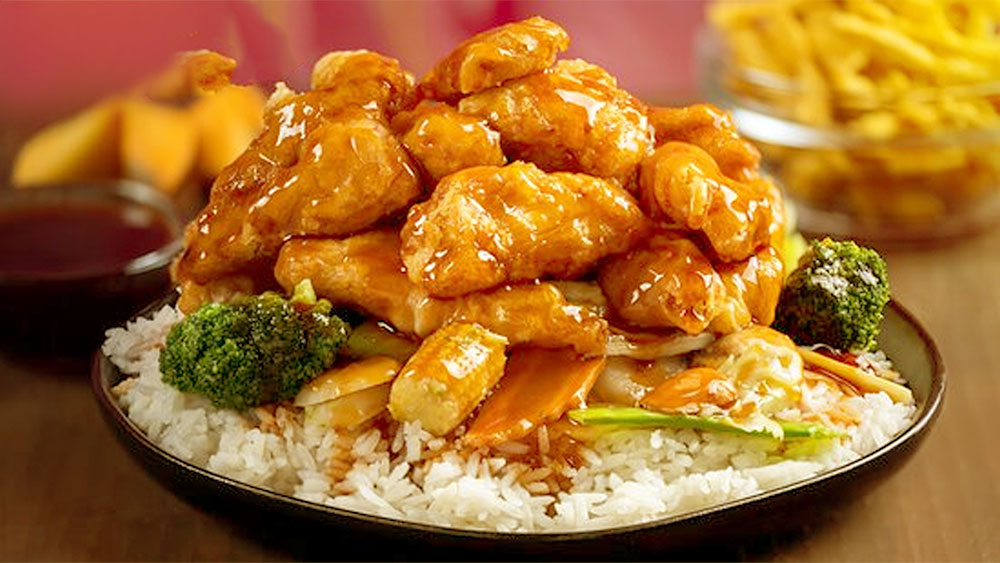 ---
Empress Chicken Nutrition facts
Chicken is a pool of the most essential nutrients the human body want. It contains high-quality protein but it doesn't contain that much fat. Especially when you are eating lean cuts. And here are some of the nutrients chicken contains,
Vitamin B-12 – Keep your body's blood and nerve cells healthy.
Tryptophan – Better Mood
Choline – Brain development and muscle movement
Zinc – Helps your immune system and metabolism functions
Iron – Boosts Hemoglobin, Reduce Fatigue
Copper – Helps maintain healthy bones, blood vessels, nerves
One piece of Chicken breast fillet contains:
Calories: 120
Protein: 26 grams
Fat: 2 grams
Carbohydrates: 0 grams
Fiber: 0 grams
Sugar: 0 grams
Health Benefits of Chicken
Weight Management and heart Health
Stronger Bones and Muscles
Helps in preventing heart diseases
Regulate blood pressure
Reduce risk of cancer
High Cholesterol
Boosting Metabolism
Decreasing bone loss
A Toned Figure
EMPRESS CHICKEN
Empress chicken is one of the most delicious recipes which is made for royal families. But it's super easy to make. Here we go through all the details to make this super delicious weeknight meal!
Ingredients
Chicken and Marinade:
1 pound chicken breast

1 large egg white

2 tablespoons rice wine vinegar

2 tablespoons soy sauce

2 tablespoons vodka

3 tablespoons cornstarch

1/4 teaspoon baking soda
1/2 teaspoon salt

1/2 teaspoon baking powder

1/2 cup cornstarch

1/2 cup all-purpose flour
Sauce:
1 cup chicken broth

1/4 cup soy sauce

1/4 cup sugar

1 tablespoon seasoned rice vinegar

3-4 cloves fresh garlic 

minced

1 teaspoon fresh ginger

 peeled and grated
Stir Fry:
1 teaspoon dried red chili flakes

1 fresh jalapeno

 seeded and chopped

1 bunch green onions

thinly sliced on the diagonal

1 3/4 cups peanut oil
Instructions
Make the Marinade
In a large mixing bowl, beat egg whites until slightly foamy. Mix soy sauce, rice wine vinegar and vodka. Pour half of the mixture into a small bowl and set aside. In the large bowl, add 1/4 teaspoon of baking soda and 3 tablespoons of cornstarch to the remaining marinade. Add the chicken pieces and coat evenly using your hands. Set aside.
Make the Dry Coating:
In a large mixing bowl, mix 1/2 cup flour, 1/2 cup cornstarch, 1/2 teaspoon baking powder and 1/2 teaspoon salt. Mix the separated egg marinade and break up large clusters until the mixture is thick, small or clumpy. Add the chicken pieces and coat evenly using your hands. Press to help glue coating Remove the well-coated chicken pieces, shake off the excess coating, and place on a wire baking rack. Allow to stand for 10-15 minutes.
Make the Sauce:
In a small bowl, add all the sauce ingredients and mix well. Set aside.

Heat the peanut oil in a pan to 350 degrees. Working in groups so as not to crowd the pans, carefully lower the dry-coated chicken pieces into the hot oil, cooking, stirring frequently, to ensure that the pieces do not stick together, to monitor the temperature of the oil and to maintain a temperature of 325-370 degrees. Cook the chicken for about 3-4 minutes. Remove the cooked chicken to a plate covered with paper towels and drain well.

Remove all but one tablespoon of oil from the wok. When oil is just start smoking, Add half of the raw onion, jalapeno and red chilli pods and cook for 20-30 seconds. Add the chicken back to the wok with the sauce and bring to a boil. Cook until sauce thickens. Garnish with the remaining half of the green onions and a few red peppe flakes and serve.
CONCLUSION
Whew! Have you finished making super delicious EMPRESS CHICKEN yet? I'm still in heaven with crispy, Spicy, and slavery jalapenos and chili flakes!
How hot can you handle your Asian dishes? Let me know in the comments!