What fried side do you order at your favorite fast-food joint? While some people go for the fries, others reach for the onion rings. If you fall into the second category, you'll love this article. Not many fast-food joints serve onion rings. But luckily for onion ringers all over the world, Burger King does have onion rings on its menu. And boy, is it delicious. Want to enjoy the golden, crispy snacks from the comfort of your home? Here's how to make those delicious Burger King onion rings at home.
How to make Burger King onion rings at home.
In this article, we'll be sharing two different recipes with you. The first is how to make an identical copy of Burger King onion rings. The second is a healthier vegan option. Feel free to try either, or both–as the Burger King says, "have it your way!"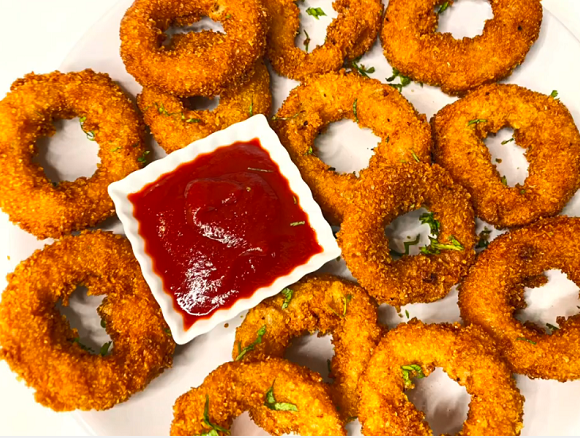 Recipe 01 – Identical Burger King onion rings
This one will taste just like the real deal.
Ingredients
1 large onion, sliced into 1/4" rings (sweet onions are better)
All-purpose flour – 1 cup
Baking powder – 1 tablespoon
Kosher salt – 1 tablespoon
1 large egg
High-fat milk – 1 cup
Breadcrumbs – 1 cup
Canola oil (for frying)
Seasoned salt
Instructions
Set up your breading station
Set up three bowls in a row. From left to right, they should be:
flour, baking powder, and salt,
egg and milk,
breadcrumbs.
Gently whisk each bowl to combine the ingredients.
Set up a holding area
You'll need a place to keep the battered rings before you pop them into the fryer. Place some paper towels on a tray with a wire rack on top. That'll keep your whole process smooth. Plus, there will be less of a mess to clean up!
Heat your oil
You'll need to keep the oil at just the right sweet spot. Use a cooking thermometer for this. Ideally, you should try to keep the oil at around 185°C (365°F). As you're frying, you might notice the temperature dipping. In that case, just wait between batches for the oil to heat back up. And of course, use your eyes—check if the rings are coming out right as you go along.
Coat your onion rings
There are a lot of ways you can coat your rings. But to get that authentic Burger King look and taste, try this.
Take each ring and dip it in this order exactly:
Flour mixture
Milk/egg
Flour mixture
Milk/egg
Breadcrumbs
At every stage, be sure to thoroughly coat each ring. Especially at the breadcrumb stage. Make sure you get the insides as well as the outsides. You can try gently pressing breadcrumbs around the outside of the rings.
Cook your onion rings
Last but not least, the frying step. Place a few rings at a time into your heated oil. Let them cook for around 2 to 3 minutes.
Once the outside is a beautiful golden-brown color, remove your cooked onion rings and place them on a plate or tray with paper towels to absorb the oiliness. Don't forget to add salt to taste while they're still hot.
And that's it! You should be left with some onion rings that even the Burger King himself would be proud of. Now, let's look at a healthier, fat-free, vegan version of the onion rings.
Recipe 02 – Healthy, fat-free, vegan onion rings
Onion rings aren't an everyday snack. After all, they do fall into the junk food category. But if you ever feel the need to indulge guilt-free, try this healthier recipe. We've kept it short so you can start snacking that much sooner!
(Note that we'll be using an oven to cook the onion rings.)
Ingredients
Yellow onions, sliced into 1/4" rings – 2 to 3
For the wet mix:
Flour of Choice (All-Purpose, Spelt, GF, etc) – 1/2 cup
Unsweetened Plant Milk – 2/3 cup
Paprika – ½ teaspoon
Turmeric – ¼ teaspoon
Salt – ½ teaspoon
For the dry mix:
Panko breadcrumbs (vegan) – 1 cup
Paprika – ½ teaspoon
Turmeric – ¼ teaspoon
Salt – ¼ teaspoon
Instructions
Preheat your oven to 230°C (450°F).
Follow all the set-up steps for the previous recipe.
Add all the wet mix ingredients to a bowl and mix them.
Do the same for the dry mix ingredients. Then separate the dry mix ingredients into two separate bowls. This prevents the whole mixture from getting sticky and unusable.
Dip each ring into first the wet mix, then the dry mix. Use separate hands for each mix. Afterward, place the ring in the holding area.
Bake your rings in the pre-heated oven for 30 to 35 minutes. Be sure to use a greased or lined baking tray.
Serve while warm!
And that's the other way to make delicious onion rings at home. Go for the healthy recipe or the Burger King copycat recipe as your heart (and stomach) desires!
Final thoughts
As with anything, moderation is key. Don't have onion rings for breakfast, lunch, and dinner. But now and then, when you feel the craving for some fried yummies, why not sink your teeth into some crunchy, crispy homemade Burger King-style onion rings?
Let us know in the comments how yours turn out!