Have you ever wondered about drinking smoothies for your health and well-being, or are you a smoothie lover already? Whatever the case this article is the perfect place for you to learn everything about smoothies. Many people misunderstand smoothies and shake as the same thing. But how do you understand the difference? Let's see.
Smoothie vs shake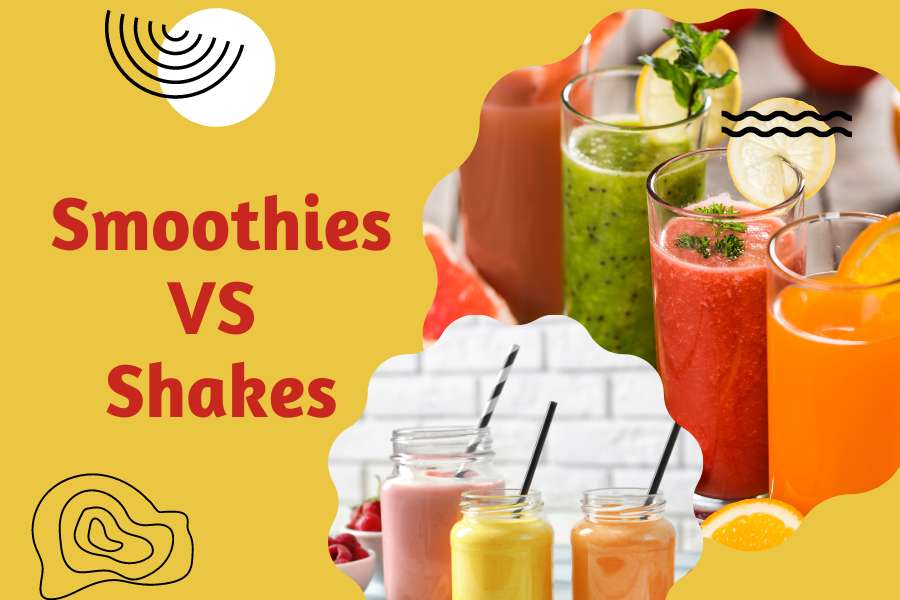 Smoothies are versatile beverages with a creamy texture, which you can easily make by blending pureed fruits, vegetables, nuts, juices, yogurt, seeds, and milk ( dairy or non-dairy). Usually, smoothies are water-based as they mainly contain fruit and vegetable concentrates. As for shakes they are mainly dairy-based, have a creamier texture, and are packed with heavy proteins and high calories.
Are smoothies healthy?
A smoothie has two basic components; base and liquid. Combine different ingredients based on your preference and you can modify the taste as you wish based on the ingredients you use, so the taste will vastly differ from the ingredients you use.
You love smoothies and they are popular but are smoothies healthy? this is a big problem you might have. Well, they are said to be healthy related to the following factors.
Increase the intake of essential nutrients
Since smoothies are mainly made from fruits and vegetables, your body will get an array of essential nutrients like minerals, vitamins, fiber, and different phytochemicals as well. There's no denying that these foods can reduce the risk of inflammation, heart diseases and improve your digestion process. Furthermore, they have positive effects in enhancing your cognitive health and bone health as well.
According to WHO (World Health Organization) recommendation, an adult should at least eat 400g of vegetables and fruits a day. So drinking a nutrient-rich smoothie will help you with achieving that goal.
Aids in preventing constipation
Most fruits, whole grains, seeds, nuts, and vegetables are fiber-rich ingredients. If you choose wisely your smoothie can be a great way to increase your fiber intake in the body. Do you know that fiber plays a vital role in enhancing your digestion? Maybe not.
Fiber supports beneficial microbial growth in your gut, thereby aiding digestion and preventing constipation. Moreover, having gut-friendly microflora can help your immunity, mental health, and inflammation as well.
How to choose the best blender for smoothies?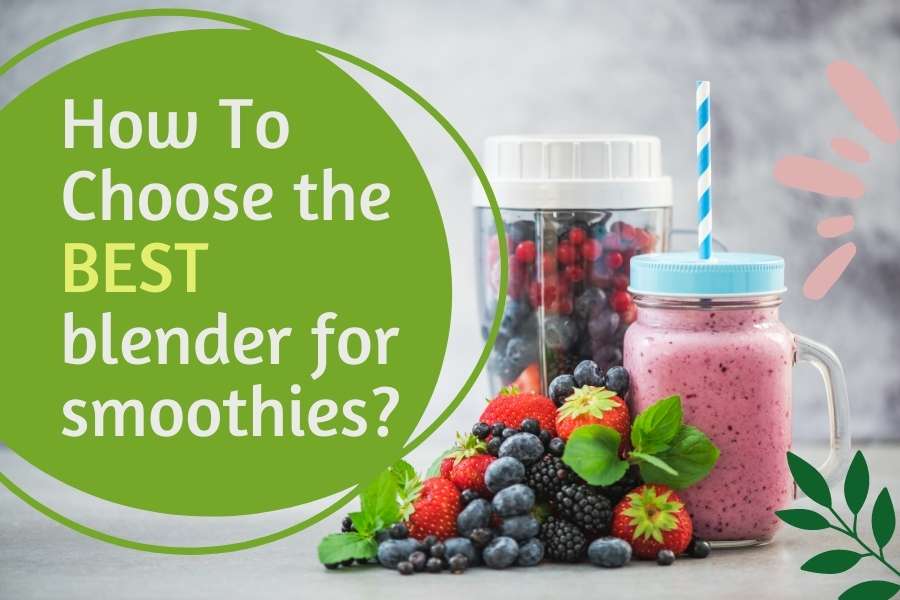 To achieve the best quality smoothie with smoothness and exact texture, choosing a good blender is a must. Since the smoothies are a combination of high-fiber foods, frozen foods, ice, etc, you need to choose the blender appropriate for blending all those kinds of ingredients. Otherwise, your smoothie will end up leaving pieces of vegetables and fruits, making it less appealing and enjoyable.
More importantly, the right blender will save your effort and time in the kitchen, helping you to make your favorite smoothies more quickly desired appearance, taste, and texture.
Main types of blenders to choose
There are two main types of blenders you could choose to blend the ingredients in your smoothie.
1. Traditional blender
They are the most common blender type. You can use them with a large pitcher to blend the ingredients. Their advantages and drawbacks are as follows.
Advantages
They are powerful and have the ability to handle a large range of different ingredients including frozen fruits, ice, fiber-rich vegetables, etc.
They have customized settings for speed and blending functions for smoothies, sauces, soups, etc.
The main advantage here is you can make a large quantity of smoothie recipes or any blended recipes at once.
Drawbacks
These blenders are large and bulky, taking up a large space in your kitchen. Therefore using traditional blenders can be a bit of a disadvantage in terms of space management.
2. Immersion blenders
These blenders are also known as stick or hand blenders. They don't have a separate pitcher so that you can blend the ingredients directly in a bowl or a pot. Now let's see the Advantages and drawbacks of this blender for making your smoothie recipes.
Advantages
No need for a separate pitcher to blend the ingredients
Easy to clean and handle
Requires less space
Best for small batches of smoothie recipe preparations
Drawbacks
Their blending ability is less powerful compared to traditional blenders
Not suitable to make large quantities of smoothie recipes
Not powerful enough to blend ingredients together with fiber-rich vegetables and ice
Types of nutrient-packed smoothie recipes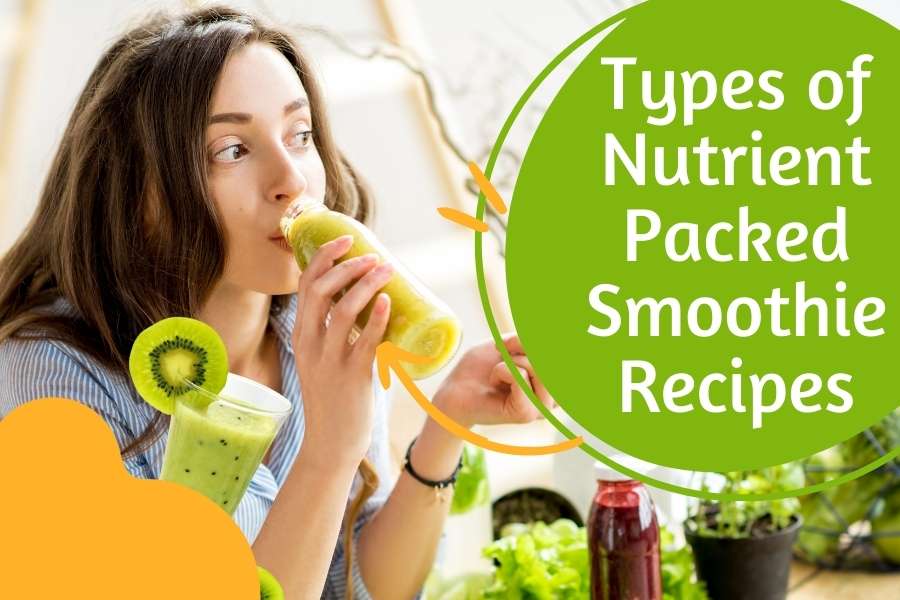 1. Smoothie Bowls
There are endless combinations of smoothie bowls and toppings if you love to add smoothies to your daily routine. But before going for different variations, do you know how to make a smoothie bowl? If not, now it's the time to learn!
Ingredients
This recipe needs 3 simple ingredients and a suitable blender!
Frozen bananas
Frozen berries
Non-dairy milk
Protein powder (optional)
How to make it?
Add frozen berries and bananas to a blender and blend well.
Blend in low power until you get a smoother texture with dips and dots
Finally, add some non-dairy milk options you like and blend for some more time.
Serve!
When it comes to deciding on smoothie bowl toppings, you can add plenty of variations. The basic toppings include fruits, nuts, granola, seeds, etc. Fruits are a great topping when it comes to additional nutrition and the aesthetic appearance of the smoothie. No matter what kind of topping you use for the smoothie, remember to eat it fresh just after preparing it.
Smoothie bowl topping ideas
Given below are some smoothie topping ideas you could follow to make your smoothie plans a delightful one.
Granola
If you choose granola to be your topping, based on the brand you choose you will get a great mixture of different textures.
Chia seeds
These seeds are similar to poppy seeds and give the same feel. When they are mixed with your smoothie, they will give the slightly crunchy texture you desire. But make sure to add them lastly after all the toppings to get their best crunchy texture. All you need is 1-2 teaspoons for your smoothie
Dried coconut flakes
Dried coconut flakes give the best feeling of smooth texture to your smoothie. They are wider similar to chips and have a fluffy texture which gives the best feeling when you eat your smoothie.
Fresh Fruit
As we mentioned above, fresh fruits are a great way to add flavor, appearance, and nutrients to the smoothie. You can achieve a mix of flavors sweetness, and sourness with fruits more than anything else.
In terms of fruits, bananas rich in fiber and potassium will be a great choice to give a creaminess to your smoothie. Furthermore, you can add mangoes, pineapples, apples, and berries to modify the smoothie to your taste buds' preference.
Nut butter
If you wanna add healthy fats and proteins for a healthy smoothie, go ahead and add some nut butter ( cashew, almond, or peanut butter. You'll love the taste!
In addition to the above toppings, there are much more types of toppings you could add to your smoothie such as oats, chocolate, nuts& seeds, dried fruits, etc.
2. Protein smoothies recipes
The protein requirement of an average adult is nearly 53g per day. Eating adequate levels of proteins not only helps you keep full but perform many vital functions in your body. They produce essential enzymes needed for bodily functions and create muscles and bones in your body.
If you feel like you are not getting enough proteins with your meals, it's time to shift your meal plans to protein smoothies. Given below are some easy recipes you could try making, in any case, you need them.
3. Healthy green smoothies recipes
Adding leafy veggies into meals is not a new strategy right? In fact, it's a wonderful way to add extra nutrient value to your diet. So, can you add leafy greens to your diet? Of course yes. But how?
See the list below to have simple, healthy, and delicious green smoothies with superfoods! You'll love to add them to your every meal, not only because they are healthy, but also because they satisfy your taste buds to the fullest.
4. Low-calorie smoothies for weight loss
If you want to make fast and effective diet plans for weight loss, then choose meals that are simple and enjoyable. And how do you do that? Start your day with a quicker and easier smoothie recipe for breakfast. The low-calorie smoothie recipes given below contain sufficient levels of proteins and fiber, which will keep your gut full throughout the morning until lunch. Now let's jump into the recipes.
5. Energy-boosting smoothies for breakfast
Energy-boosting smoothies are the ones that you can make to give a quick burst to your energy. Usually, they are made with ingredients that are rich in vitamins, minerals, and carbohydrates. For that, you can prepare your smoothies, especially with natural sugar-rich fruits such as mangoes, oranges, bananas apples, oranges, etc.
To add essential minerals and vitamins, you can add kale and spinach. And for extra energy boosting, you can add flax, chia, and hemp seeds rich in fiber, healthy fats, and protein. Moreover, some add caffeine-included ingredients such as green tea and matcha powder to give a natural energy boost. To have energy boosted morning, try these excellent smoothie recipes with your loved ones.
Try these wonderful quick and easy smoothie recipe ideas with your loved ones to have a better healthy lifestyle. Try new ideas and share your comments with us.